In this fashion directory you will find links and information about clothing hanger companies around the globe. If you are sourcing hangers for your garments, you can find the appropriate factory here...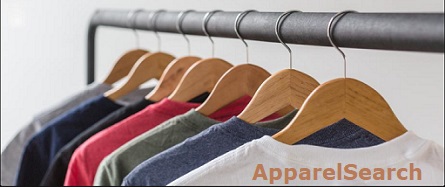 Hanger Factories

Hangers PLUS with headquarters in Coopersville MI. Hangers PLUS has an extensive line of products and as a member of VICS. They offer a complete line of products that meet and exceed the VICS standards, serving multiple locations. They own their own facilities and manufacture the products that they sell. They are approved hanger supplier for several clothing stores. They provide tops hangers, bottoms hangers, outerwear hangers, suit hangers, intimates hangers and accessories.
Manufacturer Plastic Hangers

Manufacturer of Wood Hangers
---

Hangers of London: As an established and leading international supplier they can offer an unparalleled selection of plastic hangers. Address: 23 Penda's Mead,Sherry's Wharf,Lindisfarne Way London E11 1AU United Kingdom Phone: 0044 208 985 4643 or 0044 777 022 0123 Fax: 0044 208 803 2777 Email: hangerol@aol.com Contact: Sam Inanc
Manufacturer Item # 1: Plastic Garment Hangers
---
Hoja Galanterija Podpec (Slovenia): is one of the biggest European manufacturer of wooden hangers. The most often used kind of wood is beech wood followed by other types like oak, fir and alder wood. Most of the products are made upon customers requirements. They are able to provide their customers different models of the hangers, different hardware, different finishes of wooden part of the hanger and different finishes of hardware. They are offering their customers high quality products and excellent service at reasonable prices. Address: Podpec 53 Preserje 1352 SLOVENIA Phone: 00386 1 3631521 Fax: 00386 1 3631241 Email: marko.ilar@hoja-gal.si
Contact: Mr. Marko Ilar, Managing Director


---


Isher Hangers

(future site at www.isherhangers.co.uk/)

(England): Isher Hangers was established in 1982, a family run company based in the heart of the West Midlands. The company produces up to 100 types of plastic and wire hangers for wholesale and retail purposes these include; Trouser, Shirt, Blouse, Jacket , Children. The importance of customer satisfaction is an immanent part of their philosophy, which has lead to success across the UK and parts of Europe. Address: 53 Steward Street Ladywood, Birmingham, England B17 7AE Phone: +44 (0) 121 456 1822 Fax: +44 (0) 121 456 1833 Email: info@isherhangers.co.uk Contact: K S Chatha - MD

Manufacturer Item # 1: Plastic Hangers
Manufacturer Item # 2: Wire Hangers
Manufacturer Item # 3: Trousers
Manufacturer Item # 4: Shirts & Blouses
Manufacturer Item # 5: Jackets
Manufacturer Item # 6: Childrens
---

J & G (India): Trader of garment hangers. Exclusive designs of wire hangers, plastic hangers for suits, coats, jackets & hotel hangers. Manufacturer of garment covers and shopping carry bags. Address: D-83, Shakarpur, Delhi, India 110092 Phone: 011-2247168 Fax: 011-2469642
ContactName: AJAY GUPTATR
---

KC Store Fixtures : Kansas City Store Fixtures is a leading online distributor of retail and display fixtures. They are a U.S. manufacturer and a direct importer providing you with the best prices on the widest selection of retail displays.
---

Maritime Hangers Ltd.: Established 1996, manufacturer of dry-cleaners hangers and dry-cleaners plastic bags, suppliers of a whole spectrum of dry-cleaners supplies, detergents, spot removers, paper products, printed cape hangers and more. Suppliers of air coolers for drycleaners plants, workshops, tailoring plants and similar locations. Address: 192 Joseph Zatzman Drive , Unit 5, Dartmouth, Nova Scotia, Postal cod: B3B 1N4 CANADA Telephone: 902-468-6001 Toll free: 1-866-424-POLY (7659) e-mail: info@maritimehangers.com Manufacturer Hangers Manufacturers Dry Cleaner Bags
---

Maxim Brand Solutions: Maxim Brand Solutions continues to build upon a 29 year reputation of quality brand identification products. Their reputation for offering reliable on time delivery, competitive pricing, and outstanding service to the apparel, retail, home furnishings, and footwear industries has awarded Maxim the privilege of doing business with the World's best. Maxim Brand Solutions offers a full line of merchandise identification products and services. They design, produce and deliver customized programs that fulfill all of your identification and branding requirements. Their line includes woven and printed labels, graphic hang tags, adhesive back labels, sizer strips, carton labels, packaging, boxes, bags, hangers, buttons, price ticketing and other custom branding identification products. Maxim's network of production facilities are located strategically close to where your products are manufactured; saving time and cost with shipping, import taxes, and time zone constraints. Production locations include Shanghai, Taiwan, Vietnam, and Hong Kong. All facilities are networked through their Chicago area, Wauconda, Illinois office providing you with the convenience of communicating with a local company. Address: 1260 Karl Court Wauconda, IL 60084 Contact: Robert Gorgone e-mail: robertgorgone@comcast.net Phone # 1-207-729-7760, Fax # 1-207-729-7730
---

M2M (GB) Ltd. (based in United Kingdom): M2M (GB) Ltd. manufacturers an award wining modular range of patented Made To Measure Adjustable Hangers in China and the UK. The range includes an outerwear hanger (with optional non slip trouser bar and or skirt clips, extra large 50cm trouser bar, flat adult hanger with optional skirt clips and children's/lingerie hanger with optional skirt clips. Wood and satin versions are also available. Hangers are supplied either direct or through country distributors. The hangers have featured on the BBC TV Best Inventions program and won a Product Design award judged by the CEO of the Design Council. Customers can replace 80% of their hangers with only two styles and achieve better display. Address: Claines Worcester UK Phone: 44 1905 757200 Email: info@m2m.co.uk Contact: Nick Lewis
Manufacturer Item # 1: Adjustable Clothes Hanger
---

M & B Hangers: wire coat hangers and paper products for the drycleaning and uniform rental industry.
---

MultiSize: hangers with an adjustable size indicator imprinted with custom logo.
Thank you for using the Apparel Search website.