Time to learn about compression socks for men, women & children.
In summary, compression socks are designed to gently squeeze legs a bit more than typical socks. They are produced in various lengths. One of the primary intentions is to promote better blood circulation in the legs.
There are many types of compression clothing styles that serve a similar function, such as compression shirts, shorts, socks, sleeves, tights, etc. Compression clothes and accessories provide support that is especially useful for athletics, people who have to stand for long periods, or people with poor circulation. The garments can come in varying degrees of compression.
What do compression socks do for the wearer?
The pressure these stockings put on your legs helps your blood vessels work better. The arteries that take oxygen-rich blood to your muscles can relax, so blood flows freely. The veins get a boost pushing blood back to your heart.
Some athletes, including runners, basketball players, and triathletes, wear compression socks and sleeves on their legs and arms. The theory is that, during activity, better blood flow will help get oxygen to their muscles, and the support will help prevent tissue damage. And afterward, the beefed-up blood and lymph circulation will help their muscles recover quickly. They won't be as sore, and they won't cramp as much.
Compression stockings are specially made, snug-fitting, stretchy socks that gently squeeze your leg. Graduated compression or pressure stockings are tighter around your ankle and get looser as they move up your leg. Compression sleeves are just the tube part, without the foot.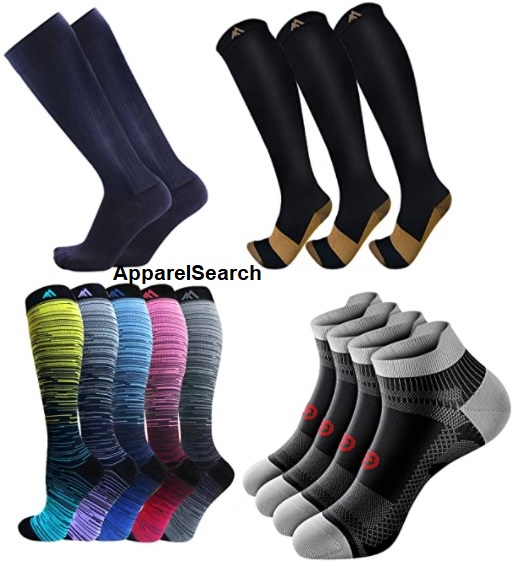 Compression clothing has been stated to improve athlete performance before, during and after activity through improved circulation, muscle containment and reduced muscle vibration.
One of the main benefits of compression sportswear is that it keeps the muscles warm to prevent muscle strain and fatigue, and wick sweat away from the body to prevent chafing and rashes.
Concepts behind wearing compression socks:
improve blood flow
lessen swelling in your legs
reduce chances of getting deep vein thrombosis
Discuss above with your doctor to determine if compression socks are appropriate for you.
Do the compression socks really work?
We at Apparel Search just don't know. Maybe it does, but we are not doctors or scientists.
Please note that we are NOT doctors and do NOT know with 100% certainty that compression socks are beneficial. We are only pointing out on this page information that we have read but have not done scientific study on our own. Please utilize this information at your own risk and do your own further research.
Learn about compression shirts & compression shorts.
You may also want to further research the sock category in general to further understand the meaning of socks.
Learn about fitness fashion.
Learn about sock sizes.