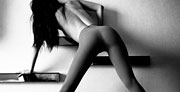 American Apparel is a leading basics brand for young adults and people of all ages, with both wholesale and retail divisions globally. The company is known for cutting-edge advertising and product branding. Its "Made in Downtown LA" operations have contributed to significant brand awareness and a cult status worldwide.


American Apparel uses a vertically integrated business model which minimizes the use of sub-contractors and offshore labor. Knitting, dyeing, sewing, photography, marketing distribution and design all happen in our Los Angles facilities. American Apparel examines each part of its production process and implements ways to reuse, recycle and diminish its ecological footprint on the earth.

American Apparel uses a vertically integrated business model which minimizes the use of sub-contractors and offshore labor. Knitting, dyeing, sewing, photography, marketing, distribution, and design all happen in their facilities in Los Angeles.

See an example of their product: View the American Apparel 2015-2016 Wholesale Catalog.

New Update February, 2016: On February 5, 2016 American Apparel, LLC (the "Company"), announced that they have emerged from chapter 11 as a private company after successfully implementing its plan of reorganization, approved by the Delaware bankruptcy court on January 27, 2016.

News Update October 2015: On October 5, 2015 it was announced that American Apparel, and certain of its domestic subsidiaries have voluntarily filed to reorganize under Chapter 11 of the U.S. Bankruptcy Code in the U.S. Bankruptcy Court for the District of Delaware (the "Bankruptcy Court"). The Company expects to complete the restructuring within approximately six months. Read more about the American Apparel Filing Chapter 11.

News Updated December 2014: On December 17, 2014 American Apparel announced the termination of founder Dov Charney. You can learn more at our American Apparel terminates Dov Charney article on the Fashion Blog.

News Update June 18, 2014: American Apparel Board Suspends Dov Charney as CEO and Declares Intent to Terminate Him for Cause. The Board of Directors of American Apparel, Inc. (NYSE MKT: APP) voted to replace Dov Charney as Chairman and notified him of its intent to terminate his employment as President and CEO for cause. It is expected that the termination will be effective following a 30-day cure period required under the terms of Mr. Charney's employment agreement. The Board suspended Mr. Charney from his positions as President and CEO, effective immediately, pending the expiration of the cure period. At the same time, the Board appointed John Luttrell as Interim Chief Executive Officer. Mr. Luttrell, who has been with American Apparel since February 2011 and currently serves as Executive Vice President and Chief Financial Officer, will continue in those positions as well.

Summary from April 2011:
American Apparel is a vertically integrated manufacturer, distributor and retailer, based in downtown Los Angeles, California. They currently employ approximately 10,000 people globally (about 5,000 in LA), and operate more than 285 retail stores in 20 countries. Within their business model, knitting, dyeing, cutting, sewing, photography, marketing, distribution and design all happen in the company's facilities in Los Angeles. The company operates the largest garment factory in the United States, at a time when most apparel production has moved offshore. With our recently opened stores in China, we are now selling Made in USA clothing in the largest consumer market in the world. American Apparel leverages art, design and technology to advance the business process, while continuing to pioneer industry standards of social and environmental responsibility in the workplace.

2007: American Apparel was a publicly traded company, having completed a merger with Endeavor Acquisition Corp. on December 12, 2007


As you probably already know, American Apparel was originally crafted by primarily one person. The force behind American Apparel was founder Dov Charney.

Here is a quote from Dov Charney from the About Us section of the American Apparel website from April 2011, "

I am an intuitive designer. I put it on and I see if it's tight or not. I love the touch of fabric. I've seen photographs of Yves Saint Laurent in a fitting and I thought, "That's how we do it!" I try on all my underwear designs before they go into production. I am very pleased by the rapid expansion of American Apparel this year and the continued momentum our business is enjoying worldwide. I have welcomed a large number of new employees into the family this year, and am happy that in doing so they are able to earn a decent livelihood for themselves and their families. American Apparel now employs 10,000 people across the world and about 4,500 in our home of downtown Los Angeles. This year we're on track to export more clothes internationally than we have ever before, meaning we're sending Made in USA clothes to China, Europe, Australia and South America. I am particularly proud that so many of our long-standing manufacturing employees have become shareholders in American Apparel which means they now have a direct stake in American Apparel's financial success.

"

Learn more about

American Apparel

at

www.AmericanApparel.net or at the American Apparel Investor Relations website.

Learn more about other apparel companies.




If you are looking for other fashion companies to research, you may also have interest in

American Eagle Outfitters

.