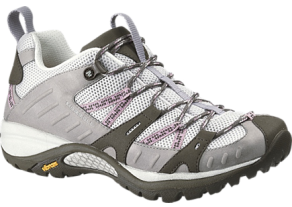 What began in the Green Mountains in Vermont, now roams the world. For more than 26 years, Merrell has been providing outdoor enthusiasts with quality performance footwear.
As the needs of the outdoor enthusiasts have changed, so too has Merrell's approach to addressing those needs. Over time, the concepts of "outdoor" has broadened to include all types of activities and environments - both natural and urban. Merrell is driven to keep pace with this evolution of "The New Outdoor," and continues to evolve.
It's been written that what's important is not the destination, but the journey. If you happen to follow the Merrell journey you will find all-leather hiking boots to plastic telemarking boots to the moc that created the Aftersport category, and much more. In addition to great footwear, you will find wonderful apparel as well.
At Merrell, they believe that active people inspire performance products. It's a belief that defines their business, strengthens their brand and reaffirms their commitment to delivering exceptional footwear and apparel. Most of all, it provides them with a better understanding of what you expect from a quality outdoor product.
Merrell also believes in encouraging everyone to get outside, from beginner to seasoned pro. And once you're out there, they provide the performance and style to keep you going. Further. Faster. Comfortably. After all, you're the heart and soul of their brand and the inspiration behind their products. It's what they think every Merrell customer deserves.
Like every outdoor enthusiast, they will continue to Get Outside and get better...
To learn more about Merrell visit their website.