January 2017 Wet Sealed Closed All Stores.
Wet Sealed Files for Chapter 11 Bankruptcy Protection on January 15, 2015.
January 7, 2015 Wet Seal announced that they were closing 338 of their retail stores.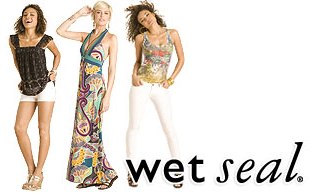 Following the store closures, the Company expects to operate approximately 173 retail stores and its Internet business.
Headquartered in Foothill Ranch, California, The Wet Seal, Inc. is a leading specialty retailer of fashionable and contemporary apparel and accessory items.
The following is for historical reference:
December 2016, The Wet Seal, LLC is a pioneer in fast fashion retailing, sells apparel, footwear and accessories designed for teen girls and young women of all sizes through retail stores nationwide, as well as an e-commerce website. The Company operates 171 stores in 42 states and www.wetseal.com. They use the power of fashion and fun to help our girl express her individuality and fit in—while standing out. We always listen closely, keep it real, and offer our product at a great price.
July 4, 2009, the Company operated a total of 496 stores in 47 states, the District of Columbia and Puerto Rico, including 413 Wet Seal stores and 83 Arden B stores.
The Company's products can also be purchased online at www.wetseal.com.
For more company information, visit Wet Seal Incorporated