Online Resource Center: Fashion Emerge will launch their 3-month-old site with an event nestled in the excitement of New York Fashion Week.
Fashion Emerge.com is pleased to announce their impending launch event in February 2009. Touted as "The New Frontier of Fashion Information" Fashion Emerge offers access to hand picked and reviewed fashion resources, online classes/ seminars, industry interviews and much more.
The world of fashion goes far beyond flash and flair. What makes fashion so intriguing is the varied components, and how they connect in a delicate puzzle of creativity and style. Fashion Emerge steadily presents their readers with structured and complete insight on the real world that makes up the fashion industry.
The much-anticipated launch will mark the beginning of many networking opportunities and online promotion for those looking to reach individuals in the industry.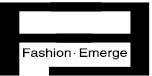 Website: www.FashionEmerge.com
Yolanda Brunson-sarrabo Co-founder of Fashion Emerge "The New Frontier of Fashion Information" Is the hot new fashion resource for anything fashion related concerning this ever-changing business. Their site will stir away from the celebrity and gossip fashion news. They claim to please in plain old fashion source in what to, how to, and when to.