The top leading position of Eurovet and its extensive experience in the worldwide lingerie and beachwear trade fair organization give the promise of successful days of work and networking at Shanghai Mode Lingerie and Interfilière Shanghai next 18-19 October 2011: more than 250 exhibitors and 6000 visitors will attend Shanghai Mode Lingerie & Interfili
è
re Shanghai within 2 days in October
18-19 2011
.
After Interfilière Paris was changed from September to July, Shanghai Mode Lingerie & Interfilière Shanghai remains the ONLY lingerie and beachwear trade fairs in the world at the end of 2011.

Top business opportunities, trend previews and networking will be on stage.

Interfiliere Shanghai, the source for inspiration

Over 200 exhibitors from Europe and Asia showcasing lingerie aspects with the highest quality –from fibers to fabrics, lace, embroideries, accessories, OEM/oDM and the latest innovation and technology for lingerie and beachwear. Interfilière Shanghai, will provide next October unparalleled business opportunities and connect the largest industry experts worldwide.

With the renewed enthusiasm and creativity at each event, Eurovet is developing the "Machinery & Technology" at Interfilière Shanghai for the first time in 2011 (SEW SYSTEMS LTD-uK, JCC-cHINA, BEMIS HK…).They dedicated to build an ultimate business platform to cover the entire supply chain in the industry, and let innovation and technology drive enterprise business in Shanghai.
Interfili
è
re Shanghai: spend a
"
Week end in the city
"
: that is the TREND FORUM.
The Trends Forum is designed and co-organized by world-leading lingerie trends observing institution Concepts Paris. Metropolises change from business orientated agglomerations into humane multicultural structures, and social networks are not just virtual, they flourish in our city. With the theme of
"
Weekend in the City
"
, trends forum showcase the latest lingerie trend, design, creation and innovation through Teatime, Picnic, and Cocktail.

Les Exclusives: An ultra-select, closed-off area, giving the most innovative exhibitors an opportunity to present their most cutting-edge creations out with the Forum. Launched in 2010, the access will be available by invitation only, for guest buyers selected by the exhibitors in this space.

Shanghai Mode Lingerie: in Asia, the only trade event for the international lingerie and beachwear collections.

In 2011, Shanghai mode lingerie moves a step forward, and becomes not only the trade event for the international Lingerie and Swimwear collections, the stepping stone, but also the communication springboard and business platform for local and international Brands. Basing on different development strategy, Eurovet specially present Private Lingerie and Brands Academy, which can satisfy different exhibitor
'
s demands.

Private Lingerie will gather high level international lingerie, swimwear and hosiery brands once again (AUBADE, ANDRES SARDA, LE CHAT for lingerie, GASPARD YUERKEVICH for hosiery, HUIT for lingerie and swimwear
…
) , the ideal place to do business in the intimacy of private showrooms with highly selective business meetings between exhibiting brands and retailers, agents, partners and decision-makers. This feature has confirmed its status as the place to be for exhibitors looking to develop their market.

An answer to the market! Brands Academy unprecedentedly present in 2010.A clear strategy aiming at bringing together those looking to set up or develop local distribution networks, create or strengthen their image both to the trade media and the general public, and stand among the most well-known international brands.

With the rapid development and intense competition in lingerie industry, innovation has become a mainstream, especially design innovation is the top priority. Clear positioning and independent design style is the key point of brand to survive in the future. This year, Brands Academy presents design studio area for the first time, and brings design strength to a strategy position. Here let us hear the voices from design studio:

Fashion Fitting is the most professional lingerie design studio presently in China. They do not make their own product brand, but serve the brand. According to the research the international fashion trend and Chinese women lingerie demand, they specially design new collection for brands. With the passion and creativity, Fashion Fitting have different concept at different stages of brand development. It infuses soul and new blood into the brand, also enhance brands image and value.

Focusing on design lingerie and home-wear, BOBO studio also serves to the brands. All design concepts come from of the love of life and they like to create beautiful details of life. On the premise of comfort and environment protection, new fabric and functional fabric are used for home-wear, warm clothes and all kinds of product, including mulberry silk, PLA fibers, thermo-regulating fibers, milk fibers etc. The elegant, exquisite, eco-friendly, comfortable and natural of design concept is blended into fabric, technique and all the other process. More innovative design will present in Brands Academy.

<![if !vml]>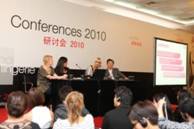 <![endif]><![if !vml]>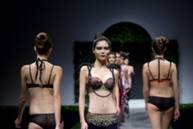 <![endif]><![if !vml]>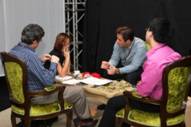 <![endif]>
FASHION SHOW
International brands and leading Asia brands will present their most exquisite and delightful creations in a chic fashion show at the Gala night –reserved to 400 VIPs. The fashion will be open to all trade visitors on Oct.19.
THE CONFERENCES: Learn more about trends, Chinese market…
During this two-day event, an extensive program of seminars and conference will be organized by Eurovet to provide participants in-depth market updates and latest news for Autumn/winter 2012. That is the time when professional share their expertise from style agencies to industry experts.
Interfilière Shanghai &Shanghai Mode Lingerie, the exclusive event that you cannot miss in 2011!
<![if !vml]>

<![endif]>
Eurovet, the world leader of lingerie and beachwear trade fair
Through 30 years experience and development, Eurovet's trade fairs are world leaders in three areas of expertise: Lingerie & Beachwear, Fashion & Distribution, and Sport & Leisurewear.
Eurovet lingerie and beachwear trade fair includes:
Interfiliere Paris, Salon International de la Lingerie, Mode City, Interfilière Hong Kong ,Shanghai Mode Lingerie, Interfiliere Shanghai, Curve NY
<![if !vml]>

<![endif]><![if !vml]>

<![endif]><![if !vml]>

<![endif]>
<![if !vml]>

<![endif]><![if !vml]>

<![endif]><![if !vml]>

<![endif]><![if !vml]>

<![endif]>
For more information please visit:
Interfiliere Shanghai:
www.interfiliere.com
Shanghai Mode Lingerie:
www.shanghai-mode-lingerie.com
View more fashion articles from August 2011.
Read previous fashion event news articles from our news archive:
If you would like to review additional categories other then event news, you can research previous fashion news reports from these links:
You may also enjoy the following resources relevant to fashion news:

Fashion Articles
Here are a few fashion calendars that you may find helpful if you are would like to attend an event:
If you work for a fashion designer, popular fashion brand, or fashion event organizer, you are welcome to list your events on the calendar.
You may want to read fashion blogs to learn more about fashion events. Fashion bloggers typically do a good job with reporting on fashion events. If you happen to fancy yourself a Fashion Writers, you are welcome to test out the fashion blog at FIN.