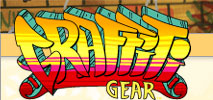 Jared Powell
Graffiti writing has formed and shaped the path of Jared Powell's art career as many times as he has changed allies. The often-overlooked art form has typically been given little to no recognition and has only recently emerged as an acceptable form of _expression. The nature of this art form leads its artists to many cities often evoking complete lifestyle changes. Jared has been writing graffiti for thirteen years, starting at the age of twelve. His interest in this scene has led him from the small towns he grew up in to larger cities such as New York City or San Francisco. This immersion in other areas and their prevalent art styles has lent a unique vibe to Jared's writing style that is not replicated in others.

Corey Williams
Graffiti artist Corey Williams has been expressing himself through various art forms from a young age. Corey's spare time has included skateboarding from the age of 10. He has built a network of friends that share and enjoy each others work through the not uncommon black book journals filled with graffiti writing. In his room, not an inch goes without his own style of graffiti art. Using many mediums he has been able to share his work with others by customizing skateboards, hats, and clothing. His High School has utilized his talent by giving him the opportunity to create photographic backdrops for various dances. Corey is also proud to have facilitated graffiti workshops for Ace (a Hip Hop after school program for High school students in San Francisco) on his artistic resume.

Graffiti Gear TM, a line of artist-made graffiti accessories, joined the PURE showroom this month. Graffiti Gear TM is taking graffiti off of the streets and into the latest fashions. Each Graffiti Gear TM design is an authentic piece of art created by true graffiti artists such as Jared and Corey. The cutting-edge, urban look of fashion and graffiti combined is sure to stir interest and controversy. Traditionally graffiti, closely tied to hip hop, was influenced by fashion. Today the underground graffiti artists and the fashion elite have thrown this art form into the news and in the latest looks on the runway.

Graffiti Gear TM was a hit at the MAGIC trade show in Las Vegas earlier this month, where visitors were treated to their very own personalized graffiti hats by Graffiti Artist Ricky Watts, whose work will be out in January. Geared for the teen and tween-oriented market, the style is gaining popularity with all ages.
For more info. visit www.graffiticollection.com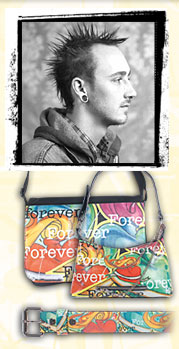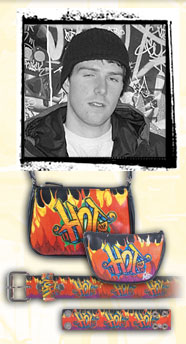 Celebrities at the Latin GRAMMY Awards Discover Graffiti Gear
Belts
November 10, 2005