The elegance and glamour of Couture Fashion Week will once again take center stage February 9-11 at New York's famous Waldorf-astoria. A number of the elegant fashion shows will be reprised, along with some new shows, in Palm Beach, Florida.

Designers: This is the perfect event for you to reach new upscale customers and get press coverage. All inclusive packages at affordable rates. Contact us for details.

Among the designers scheduled to show are:

- Kuwaiti couture designer Haya Al Houti showing for the first time in New York. Her distinguished clientele includes Saudi Arabian princesses and Kuwaiti socialites.

- Top Croatian designer Gordana Radic who, after a great USA debut last September, will return with an exciting new collection of wearable couture.

- Lebanese designer Jamil Khansa, winner of 2005's "International Fashion Designer of the Year" award returns with another stunning collection.

Sponsorships. A variety of event sponsorship and marketing packages offer multiple options and levels of participation. A limited number of exhibit spaces are also available.

Attendees range from top management level executives to socialites, VIPs and diplomats.

USA International Fashion Shows produces an exciting series of runway fashion shows year round featuring both national and international designers of couture and finely tailored garments and distinctive accessories.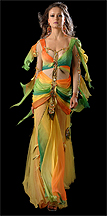 Designer: Haya Al Houti