PKFashions adhesive bra cups stick to clothing rather than skin for a comfortable, flattering silhouette. These unique, patent-pending products were created by Paige K. Fortner five years ago. She has recently launched her latest creation, Cleavage Couture Fashion Stick Cups reusable push-up bra cups that magically adhere to clothing.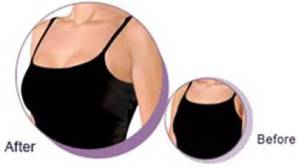 Fashion Stick Cups features:
Self-supportive & self-adhesive.

Skin friendly.

Adhesive regenerates after each washing.

Leaves no residue in your clothing.

Add at least a full cup size to bust line.

Can be worn 100+ times.

So comfortable, you will forget you have them on.

$19.99 retail
With tank top and strapless dress season fast approaching, Fashion Stick Cups are the perfect way to provide support without putting your bra straps on display. Fortner came up with the idea after cancer surgery left her with uncomfortable scarring around the ribcage and set her on a quest to find a comfortable bra. Coming up empty-handed, Fortner decided to create her own bra, which led to PKFashions collection of bra cups that adhere to clothing.
I wanted a bra that combined flattering shapeliness, support, coverage, and last but not least, unsurpassed comfort, said Fortner, who saw the need for affordable alternatives to other types of breast enhancers, such as silicone inserts and bras that stick to the skin.
The PKFashions collection also includes PermaCups (liquid adhesive, can be used in swimwear), Iron-a-cup (cups are ironed into clothing), and Adhere-a-cup (adhesive strips stick to clothing) for every bra need. PKFashions products are sold at Macy's, Dillard's, and Marshall Field's department stores nationwide, as well as online at www.pk-fashions.com