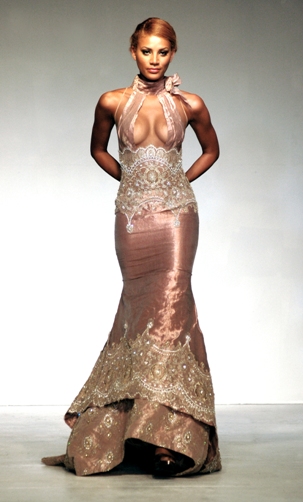 Acclaimed couture designer Jamil Khansa will present his latest fashion collection entitled "Andalucian Princess" at 9:00 p.m. on Friday, February 9, 2007. Part of Couture Fashion Week, the dazzling runway show will be held at the world-famous Waldorf-astoria Hotel, 301 Park Avenue (at 50th Street), New York City.
In 2005, Jamil Khansa was the first Lebanese designer to show during Couture Fashion Week in New York. During that event, he was named "International Fashion Designer of the Year" in recognition for his creativity and exquisitely executed fashions as well as the global reach of his designs.
In his latest collection, Jamil Khansa brings together elegant silhouettes and sparkling detailing rendered in the highest quality fabrics including silk, dentelle lace, tulle and satin. Mr. Khansa's innate sense of style and sophistication is evidenced in his ethereal color palette of radiant golds, celestial blues, smooth greens and delicate yellows. The use of jet black and brilliant white provide a counterpoint to the airy pastels. Sumptuous couture gowns fit for a princess are inspired by ancient Oriental motifs and embellished with hand painted details. The finale bridal gown will feature a breathtaking combination of snakeskin leather, silver embroidery, gold embellishments in an overall Spanish style.
Jamil Khansa has shown collections in Rome, Paris and at the Casino du Liban (Lebanon). In 2003 the multinational company Nissan chose Mr. Khansa to decorate one of their cars.
Mr. Khansa's designs combine magical imagination with extensive experience and an emphasis on impeccable quality. Whether in Beirut, Dubai, Jeddah, or soon in Beverly Hills, every woman in search of the supreme elegance of impeccable fashion design will find Jamil Khansa at her service.
USA International Fashion Shows, created by Andres Aquino, produces an exciting series of runway fashion shows year round featuring both national and international designers of couture and finely tailored garments and distinctive accessories. Collections are presented in beautiful settings in New York City before audiences of VIPs, the international press and upscale fashion and boutique buyers. Events are co-sponsored by Fashion Syndicate Press, founded in 1997, and serving the press with photos and feature articles covering fashion shows in all major fashion capitals. Its web site, fashionshowroom.com is one of the most visited fashion portals on the internet.
Search for additional information about fashion or fashion designers ...