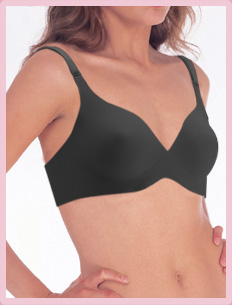 Wai Chiao Industrial Co, Ltd, a trading company with good reputation. They are entrusted by Pad Family International Co. Ltd. as their representative. Pad Family is a small-scale professional company that is devoted to the innovation and revolution of female underwear. It has succeeded in brining new ideas into various bra accessories, including pads, straps, and lace, and has recently achieved to giving new concept and life style into bra itself.
New Age Bra is the company's latest product, a 3D, one-piece bra that balanced beauty and comfort. New Age Bra is made with a newly developed fabric that looks and feels like new buck while is breathable, soft, skin-fit, water-absorbable and quick dry. New Age Bra is designed to free women from boundaries of wires, seams and elastic bands, to make women look good and feel good.
They have been ceaselessly searching and testing; eager to find a balance between looks and feels in their products. Finally, they found a material that is soft, breathable, water-absorbing, quick-dry, PLUS suede-like texture and elegance. With their 3D molding technology, they designed a new bra free from seams, wires, pads, elastic bands, comfortable yet chic.
They believe this new bra will be welcome by modern women who want to feel good, and, look good.

Learn more about the DIALTIN New Age Bra and their "world patents" at http://www.lakshmi.com.tw/
New age bra, comfy yet sexy, Frees women from the bound of wires and elastic bands. Soft, breathable new fabric with chic suede look and touch! Seamless 3D cup fits like your second layer of skin. Enjoy the relaxation without jeopardizing your style.