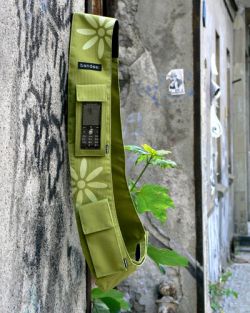 The bandee : - a simple solution to the problem of overfilled pockets and chaotic handbags - has won the red dot design award: product design 2008.
Berlin design duo Tobias Breyer and Dieter Guldin are delighted to have won the red dot for high design quality.
The red dot is one of the world's most highly-respected and difficult international design competitions. It has been awarded to producers and designers in the categories of product design, communication design and concept design for more than 50 years.
It is only given to particularly creative, innovative and high-quality products. This year 3,203 products were submitted to the expert panel. This year's winner, the bandee, is a simple yet convincing solution for carrying small everyday items.
A multifunctional sash, it holds mobile phones, i-pods, keys, money, all those things which otherwise fill up pockets or get lost in handbags. bandee: s come in a huge variety of colors and designs to suit pretty much all tastes.
Breyer and Guldin are the only people to take a red dot in the product group jewellery, fashion and lifestyle, to the German capital. The Berlin bandee can add the red dot to two other awards
the ispo brandnewaward which it captured at the end of 2007, and the Promotional Gift Award early this year.
Tobias Breyer said, "Winning the red dot validates our work in the most positive fashion. The prize comes just at the right time for us and will give wings to our further development work."
Learn more about bandee ...
Learn more about women's handbags.