Palomita Clothing, the extraordinary new brand of women's, juniors and girl's apparel with a focus on the Latino market, and MisQuinceMag.com will unveil an inspiring t-shirt designed by teen actress Selena Gomez October 1st 2008 in little girls and junior sizes.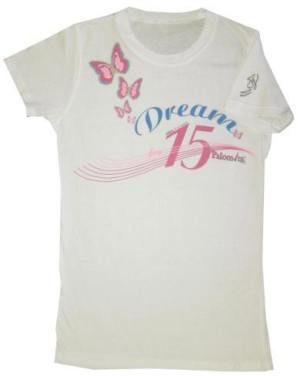 Selena Gomez offered her talented hand earlier this spring to the Palomita brand by designing a special tee in conjunction with MisQuinceMag.com for the Palomita Education Fund. Her t-shirt displays beautiful butterflies with some of Selena's inspiring mottos, including "believe in yourself," "love always," and "dream out loud." Proceeds from the t-shirts sold on Palomita website will benefit the Palomita Education Fund, a fund set to award scholarships to assist Latino students in completing their undergraduate college education. "It was a rewarding experience to design a t-shirt for the Palomita Education foundation which is dedicated to improving the lives of Latinos through education", said Gomez. "It is great to be part of such a wonderful charity."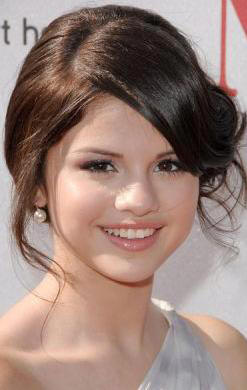 Selena Gomez, actress and singer, is currently the beloved Alex Russo character on the Disney Channel Original Series, "Wizards of Waverly Place." Selena was discovered by Disney in a nationwide Disney talent search when she was 10 years old. In 2006, she guest starred in the second-season of "The Suite Life of Zack and Cody" and appeared in episodes of Hannah Montana. She recently released a sequel to the hit movie "A Cinderella Story" called "Another Cinderella Story," playing the main character Mary. She was also seen recently in the Jonas Brothers
music video "Burnin
Up."
Based on Mis Quince, a promotional insert that launched in the October 2006 issues of CosmoGirl, Seventeen and Teen magazines, MisQuinceMag.com takes its print counterpart to a whole new level by making its advice, information and planning resources available 24/7 from anywhere in the world. The site fills a much-needed void in the online community, as the U.S. Census Bureau estimates by 2015 that one-third of the U.S. population 19-years-old and younger will be Latino. MisQuinceMag.com is promoted on CosmoGIRL.com, Seventeen.com, Teenmag.com, eCRUSH.com and eSPIN.com, reaching more than 3.5 million unique monthly visitors. In addition, MisQuinceMag.com will be promoted in each magazine's Mis Quince insert in the November 2008 issues, on newsstands in October.
Palomita's motto "Por fin una marca para ti" (Finally a brand for you) tells the story. Palomita was created by Molly Robbins, a Mexico City native as well an apparel industry veteran. She has secured exclusive rights to use trademarks and vintage art from an array of Latino companies and is artistically incorporating them into the Palomita
brand. For more information visit www.palomitaclothing.com.
---
Palomita Clothing Reminds Us The Holiday Season is Coming
Fashion Article Posted September 25, 2008
Palomita
Brings in the New Year with Jerry Leigh
Fashion Article Posted February 1, 2008

April 2008 Articles