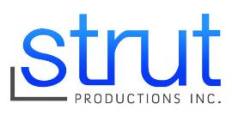 Strut Productions Inc. and Buddha Branding have joined as an alliance to now offer their clientele fully integrated services in fashion, beauty, arts, and lifestyle. The two firms now operate as a full service agency, providing services in event coordination and management, public relations, marketing, branding, creative services and sales representation in both Canada and the US. This strategic alliance allows for unique, comprehensive campaigns that designers and artists need in order to increase brand exposure and build name recognition.
The partners Jaime Shulman and Sabrina Fenster of Strut Productions Inc. and Heather Briggs of Buddha Branding are young entrepreneurs who recognize the potential for advancement in the fashion and arts industries within Canada. Their strong backgrounds in numerous areas of fashion, art, marketing, PR, branding and design have garnered them the expertise to develop and improve their clients
business.
For additional information on Strut Productions Inc. and Buddha Branding, please contact Jaime Shulman, Sabrina Fenster, or Heather Briggs or visit www.strutinc.com and www.buddhabranding.com.
ABOUT STRUT PRODUCTIONS INC. Strut Productions Inc. is a full service event & PR company specializing in fashion, beauty, lifestyle brands, arts and culture. Strut's services include event coordination, marketing, public relations and designer/artist representation. Strut's primary objective is to nurture and expand the fashion, arts and culture scene in Canada.
ABOUT BUDDHA BRANDING Buddha Branding is a boutique fashion-marketing agency that helps find the essence and soul that exists within every great brand. We do visual and verbal identity, graphic design, and brand strategy for a wide array of stylish and innovative companies in the fashion/lifestyle niche.