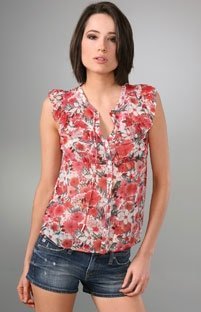 Now that we are getting 65 degree days in New York, I'm especially excited for winter to be over (let's not think about random snowstorms!). With that in mind, I am also gearing up for spring shopping, but keeping the economy in mind, I'm trying to stick to a couple of key pieces rather than a whole new wardrobe.
This season, I'm looking at classic shapes that can go with anything and transition easy from Spring to Summer. From maxi dresses that I can throw a leather bomber over to pretty tops that I can easily pair with skinny jeans or skirts to thigh skimming dresses that can look great with or without tights, I'm all about key items that can be worn a multitude of ways.
For Spring 2009, Nieves Lavi has just those kinds of items, that are easily wearable to a plethora of functions (and wrinkle free!). In addition to being comfortable and fuss-free, Nieves Lavi pieces are fashion-forward; creating a look that's flirty, romantic and 100% feminine.
Nieves Lavi, cofounded by Sharon Lavi and Sam Nieves Velez, has quickly caught on as a staple within the industry and a favorite among its growing list of celebrity fans. Celebrity fans include Rachel Ray, Kelly Ripa, Eva Mendes, Britney Spears and Paris Hilton and was worn by Sarah Jessica Parker in the movie Sex and the City.