December. 7th 2009. New York, NY. Lily Cole wears Jean Paul Gaultier pinstripe short suit with matching thigh-high boots to 'The Imaginarium of Doctor Parnassus' premiere.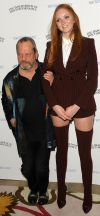 The look is from Gaultier Paris Fall/ Winter 2009 couture collection.
Learn more about Jean Paul Gaultier here on Apparel Search or visit the Jean Paul Gaultier website.
Jean-paul Gaultier Collections
Jean-paul Gaultier Fall Fashions
Jean-paul Gaultier Fashion Week
Jean-paul Gaultier Spring Fashions

If you are interested, you can read more fashion news about Jean Paul Gaultier.

Front Row Jean Paul Gaultier Spring / Summer 2010 Show In Paris
Fashion Article Posted October 6, 2009
Dita Von Teese wears Gaultier Paris to Jean Paul Gaultier spring/ summer 2010 show in Paris
Fashion Article Posted October 6, 2009