Money. Sex. Power. Some things are always in fashion...
Christine Fairbrother is a high-powered barrister, the scourge of the divorce courts, hoping to become a QC to take silk after her next high-profile case. Her daughter, Isabelle Ciss, is a talented graduate launching herself on the London fashion scene, full of dreams and ambitions and still smarting from her parents divorce.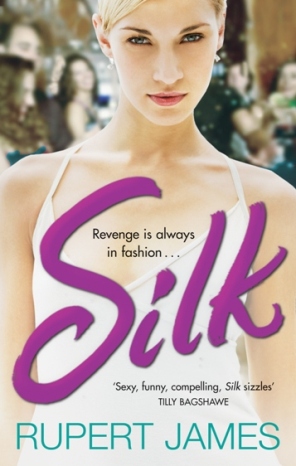 Blonde, beautiful Victoria Crabtree is the mistress of a wealthy Italian garment manufacturer, bored with being a kept woman, hungry for security and stability with the man she loves. Three women three generations set on a collision course. Their lives and conflicting ambitions become tangled as Christine handles the divorce case that could give Victoria the man she's wanted for her own for so long but which could wreck her daughter's career at the same time.
Silk follows Christine, Isabelle and Victoria through courtrooms, showrooms and bedrooms where they search for love, success and revenge.
'Taking on the gossipy tone of the very best Jilly Cooper novels and giving it a modern twist, this is a 21st century bonkbuster with attitude. If you secretly wish Dynasty had never ended and enjoy reading Lace whenever you take a sick day, this is the book for you. Pass the cocktail shaker' Elle Magazine
Rupert James is a celebrity and fashion journalist. He lives in London and is married to a barrister.
Published by Ebury Press on 18th February 2010
Find more fashion books at the fashion books website. If you were not actually looking for a book titled Silk, you may have been searching for silk clothing. If that is the case, try the silk fashion section. If you only want to learn about the fiber, try the silk fiber page.