Mackage showed their Fall 2009 collection
two
night
s ago
at the Tents at Byrant Park.
In celebration of their ten year anniversary, the Mackage Fall/winter 2009 runway show featured a collection of men's and women's coats inspired by the idea that glamour becomes all the more striking when touched with a stroke of rock
n roll.
Celebrities in Attendance:
Erin Lucas (The City)
Sarah Wynter (Dead Like Me: Life After Death)
The Fall/winter 2009 Collection:
In designing the Mackage Fall/winter 2009 Collection, designers Elisa Dahan and Eran Elfassy explored the tension created by opposing elements. Both the men's and women's collections juxtapose light and dark, matte and shiny, and even masculine and feminine, reconciling the sometimes contrasting visions of the male and female design duo. In keeping with the brand's founding concept, the collection is comprised of slim, fitted designs for men and women, continuing to approach outerwear as an integral element of fashionable dressing. As always, the line combines form and function in innovative ways, offering unique elements such as one-sided scarf collars and garment-washed leather to ensure warmth without sacrificing style.
The Mackage/housing Works Coat Drive
The only outerwear brand showing at the tents during New York Fashion Week, Mackage is putting used coats to good use by hosting a coat drive in conjunction with an NYC mainstay
Housing Works. All of Housing Works Thrift Shop's seven New York City locations as well as select beloved New York City destinations will serve as drop-off spots between February 13 and February 22. New Yorkers are invited to get involved by dropping off a coat at any of the participating locations. In an effort to increase awareness and raise money to support this initiative, celebrity fans of the line Maggie Gyllenhaal, Peter Sarsgaard, and Lindsay Price have donated autographed Mackage coats to Housing Works, which will be auctioned online at Shophousingworks.com. Housing Works at 17th Street will feature a Mackage window for the duration of the coat drive displaying the autographed coats.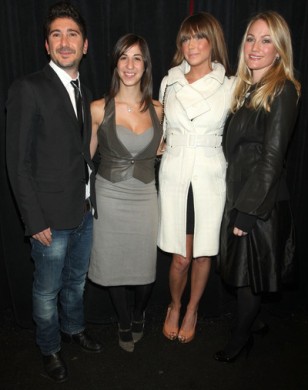 Celebrities Erin Lucas and Sarah Wynter who both attended wearing different styles of Mackage coats.


More about Mackage:
Mackage Coat Drive February 2009


Fashion

Article Posted

February 11

, 200

9

Serena van der Woodsen Wearing Mackage Leather Jacket
Fashion Article Posted January 14, 2009

Mackage Launches Menswear for Fall 2008
Fashion Article Posted November 13, 2008

John Legend Wearing the Mackage Shane Leather Jacket
Fashion Article Posted November 13, 2008