Apparel Search wanted to share with you the debut of the Keds 1920-inspired

Deville

and

Dapper

sneaker, the third of 10 decades-themed styles in the brand's new Century Collection. The sneaker will be sold exclusively at www.theoriginalsneaker.com for the month of June.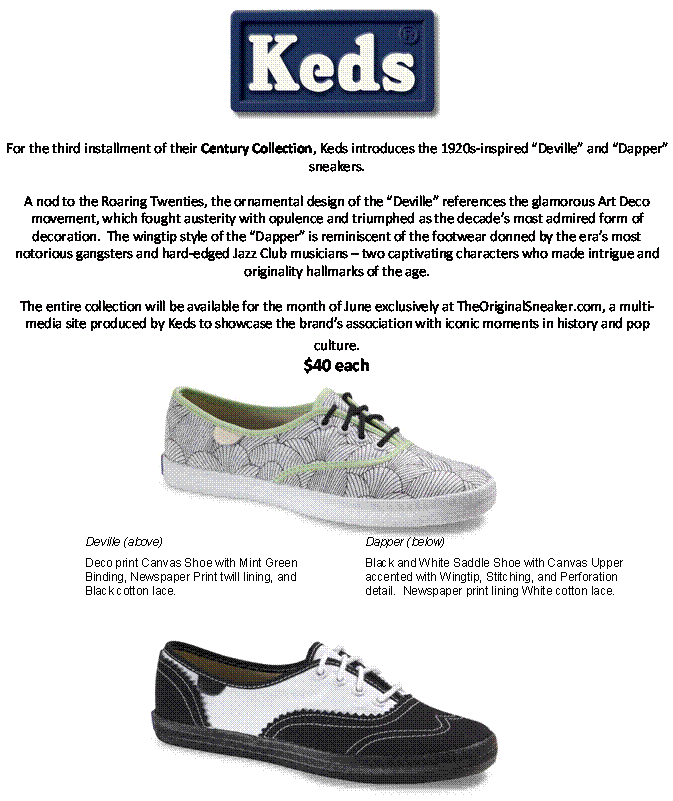 Learn more at Keds.

Learn more at The Original Sneaker.

Deville:

KEDS CENTURY COLLECTION

This month's edition: The Champion Deville. This web exclusive shoe is inspired by the 1920's; with black, white and green detailing, the Art Deco Deville captures the 20's in all its glory.

Celebrate history with the Century Collection. Every month we'll roll out a "20th Century Decade" limited edition shoe inspired by the history and fashion of that decade.

You may also wish to learn about the Keds 1910 Inspired Champion Take Flight Sneaker
February 2010 Fashion Articles

You may also have interest in the fashion shopping articles ...
Shopping For Children's Clothing

Have you ever dreamed of becoming a fashion designer?
Submit articles to the Fashion Newspaper.