---

No question about it, sewing requires precision. That's why, when developing the new ambition™ line, PFAFF paid extra attention to the details to assure you that you cannot find a more compelling feature set on a computerized sewing machine in this price range anywhere.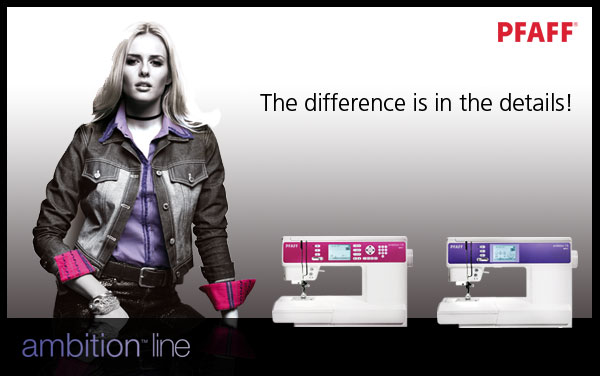 And the difference? Well, as you've already figured out, it's in the details.

Details that matter, such as being able to see what you're doing, thanks to the high resolution touch screen (1.5 model) and the three bright lights illuminating the sewing area. Or the fact that you can say goodbye to uneven feeding with the built-in precision of the PFAFF® original IDT™ technology. Then there is the exceptional 200 mm space to the right of the needle, allowing you to place more fabric and work more comfortably than ever. Details? Sure. But in the precision art of sewing, they make all the difference in the world.

Learn more about the PFAFF Ambitions Sewing Machines.

Learn more about PFAFF.

Join in the discussions regarding sewing machinery and sewing at the Sewing Group on the Fashion Industry Network.

You may also find the following links of interest:

Sewing Stitches and Seams Guide
Follow Apparel Search on Youtube
Follow Apparel Search on Facebook
February 2011 Fashion Articles
April 2011 Fashion News Articles