After several years of success collaborating with Padma Lakshmi on the Padma Collection (which was sold at Bergdorf Goodman, SAKS Fifth Avenue and Neiman Marcus for six seasonal collections) and on her personal fine jewelery line, Nanna Fabella, New York based designer Tara Famiglietti has launched the "Bohemian Lux" costume line - NONNINA for this Summer 2012. The bright colored, layering, affordable pieces (styles retail for $45 - $275) will be available at all SCOOP NYC locations nationwide for the upcoming season.
Nanna Fabella is named after Tara's grandmother, and NONNINA stays true to the familial theme - meaning "Granny" in Italian. Tara keeps to her insipiration not only in her travel inspired designs (the designer spent two years living on a sailboat traveling France, Spain, Africa, and the Balearic Islands) with her etheral blue, green and ocean tones, but also by honoring her fashion-centric family. Tara's mother and aunts' high fashion Madison Avenue boutique Menage A Trois, and her father's downtown boutique, Jenny Waterbags, where he designerd clothes Jimmy Hendric, John Lennon, Eric Clapton and Mick Jagger, solidified Tara's place in the fashion world at a young age. Tara pays homage to her own style but keeps it in the family with the line's name and classic, well made and trendy look.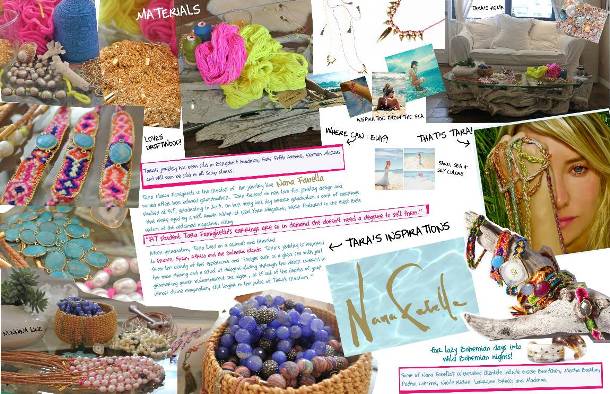 Now off on her own, the designer's pieces have already been sported by Gisele Bundchen, Mischa Barton, Nicole Richie and Madonna.
Read more fashion news articles from 2012: January 2012 Fashion Articles
Read more fashion industry news archive from 2011: 2011 Archive - Fashion Articles
Read more fashion articles from 2010: 2010 Archive - Fashion Articles
Read more fashion articles from 2009: 2009 Archive - Fashion Articles

Follow us on Social Networks:
Follow Apparel Search on Twitter
Follow Apparel Search on Youtube
Follow Apparel Search on Facebook
If you want your press releases about fashion to be published, you are welcome to submit them to Apparel Search at any time. In addition, you may want to submit your articles to the Fashion Newspaper.