Bergdorf Goodman
a division of
The Neiman Marcus Group
.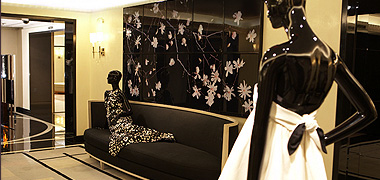 Standing at the crossroads of fashion at Fifth Avenue and 58th Street in New York City, Bergdorf Goodman is known throughout the world for elegance, luxury, and superior service. Discover the evolution of this New York legend below.
1899 Edwin Goodman works for Herman Bergdorf, an immigrant from Alsace, in his tailoring establishment just above Union Square in downtown Manhattan.
1906 Goodman purchases the store from Bergdorf and moves to the site where Rockefeller Center now stands.
1914 Goodman is the first couturier to introduce ready-to-wear, making Bergdorf Goodman the destination for premier American and French fashion.
1928 Bergdorf Goodman moves to its present location, the former site of the great Cornelius Vanderbilt mansion. With Goodman's son, Andrew, as President, the store continues innovations such as an incomparable fur salon, the exclusive Bergdorf Goodman Number Nine perfume, and Miss Bergdorf, a ready-to-wear line for the younger customer.
1953 Goodman retires as the most celebrated merchant of his time, with many accolades including the Legion of Honor from France.
1986 "The Decorative Home on Seven" is created to house antiques, porcelains, silver, crystal, linens, stationery, home furnishings, and delicacies from around the world. Today, the floor is home to Jane Stubbs' first-edition and one-of-a-kind books and prints, along with a special collection of books from Assouline. Luxury stationers Smythson of Bond Street, along with a bridal salon and gift registry, are also housed there.
1990 The Men's Store opens its doors directly across the street at 745 Fifth Avenue.
1997 Formerly the Goodman family residence, the penthouse atop the store, is converted into the John Barrett Salon and Susan Ciminelli Day Spa.
1999 The Beauty Level opens directly below the main floor, offering 15,000 square feet of luxury with eight spa rooms exclusively for facials, skincare consultations and special treatments, and Goodman's Cafe, serving lunch and afternoon tea.
2002 Artisans and craftspeople begin a dramatic restoration of the Main Floor of the Women's Store.
2003 New boutiques open for CHANEL, Giorgio Armani, Gucci, and Yves Saint Laurent.
2004 BergdorfGoodman.com debuts in Fall 2004
About The Neiman Marcus Group
For over a century, The Neiman Marcus Group has stayed focused on serving the unique needs of the luxury market. Today, that commitment is stronger than ever. We have stayed true to the principles of our founders – to be recognized as the premier luxury retailer dedicated to providing our customers with distinctive merchandise and superior service. The Neiman Marcus Group is comprised of the Specialty Retail Stores division - which includes Neiman Marcus Stores and Bergdorf Goodman - and the Direct Marketing division, Neiman Marcus Direct. These renowned retailers offer upscale assortments of apparel, accessories, jewelry, beauty and decorative home products to the affluent consumer. The Company operates 39 Neiman Marcus Stores across the United States and two Bergdorf Goodman stores in Manhattan. The Company also operates twenty three Last Call clearance centers. These store operations total more than 5 million gross square feet. Neiman Marcus Direct, our direct-to-consumer business, conducts both print catalog and online operations under the Neiman Marcus, Horchow and Bergdorf Goodman brand names. Under the Neiman Marcus brand, Neiman Marcus Direct primarily offers women's apparel, accessories and home furnishings. Horchow offers quality home furnishings, linens, decorative accessories and tabletop items.
Learn more about fashion retailers.