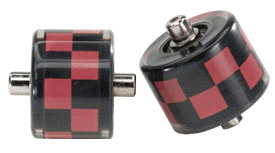 Dallas-based, Heelys, Inc. (NASDAQ: HLYS) introduces its first ever line of collectible wheels and matching shoe laces so skaters can customize their Heelys, just in time for Holiday 2007.
Six new fun and funky styles of collectible FATS wheels will be available: graffiti, skull and crossbones, stars, logos and two different styles of multi-color checks. The matching laces will be sold separately, rather than in sets, to give skaters more options.
Skaters can match the laces to their wheels, mix different patterned wheels and laces or just add one or the other to create their own personalized looks.
Whether there is a new pair of Heelys shoes for a holiday gift or a new look for a pair in the closet, kids will have fun showing their own unique styles with the new wheels and laces,
said Heelys, Inc. Vice President of Design and Development Bob Byrne.
They
re a perfect gift for any new or long-time Heelys fan.
The collectible wheels will have an MSRP of $14.99 per pair. The MSRP for the laces will be $3.00.
Learn more at the Heelys website.