Rebecca & Drew is having a huge month long sale event during December to celebrate the holidays with special events taking place on the evenings of December 11th and 18th.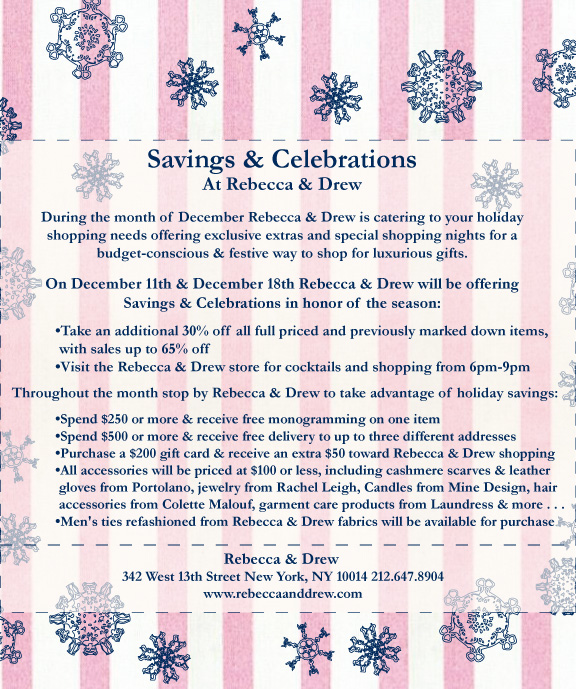 During the month of December Rebecca & Drew is catering to your holiday shopping needs offering exclusive extras and special shopping nights for a budget-conscious & festive way to shop for luxurious gifts. Throughout the month stop by Rebecca & Drew to take advantage of holiday savings:

Spend $250 or more & receive free monogramming on one item

Spend $500 or more & receive free delivery to up to three different addresses

Purchase a $200 gift card & receive an extra $50 toward Rebecca & Drew shopping

All accessories will be priced at $100 or less, including cashmere scarves & leather gloves from Portolano, jewelry from Rachel Leigh, Candles from Mine Design, hair accessories from Colette Malouf, garment care products from Laundress & more . . .

Men's ties refashioned from Rebecca & Drew fabrics will be available for purchase
On December 11th & December 18th Rebecca & Drew will be offering Savings & Celebrations in honor of the season:


Take an additional 30% off all full priced and previously marked down items, with sales up to 65% off

Visit the Rebecca & Drew store for cocktails and shopping from 6pm-9pm
ABOUT REBECCA AND DREW: Fashion veterans Rebecca Matchett and Drew Paluba launched their brand by reinvigorating an essential piece of every woman's wardrobe: the blouse. Addressing what they saw as a void in the marketplace
a lack of tailored, chic button-down shirts sized for women
Rebecca and Drew created a patented pattern-making/sizing formula they call TrioFit
, which was embraced by fashionable, successful women everywhere. Using unique color choices and patterns as well as high quality textiles, they have truly redefined the way women dress for success.

Blake Lively Wearing Rebecca & Drew Trio-fit Button Front Shirt
Fashion Article Posted October 4, 2008
Rebecca & Drew Style Versatility Spring 2008 Collection
Fashion Article Posted February 22, 2008

Check out our new clothing guide.
You may also like to view the fashion designers guide.