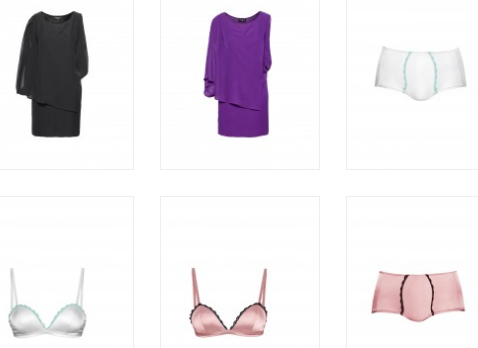 Last night on NBC's "Fashion Star," the remaining designers were challenged to expand their brands by creating clothes outside of their comfort zones. Five of the designers' garments were successful in pushing the boundaries and were purchased by three of America's top retailers: Macy's, H&M and Saks Fifth Avenue.
Celebrity mentors Jessica Simpson, Nicole Richie and John Varvatos helped guide Ross Bennett, Ronnie Escalante, Kara Laricks, Nzimiro Oputa and Luciana Scarabello in constructing their winning creations, which are available online and in stores now. The series, hosted and executive produced by Elle Macpherson, continues the search for America's "Fashion Star" in next week's episode airing Tuesday, April 24 10-11 p.m. ET when the celebrity mentors must decide what each designer will create.
Ronnie Escalante received his second purchase of the competition from Macy's buyer Caprice Willard who also bought Luciana Scarabello's cropped jacket design.
[Macys.com/fashionstar]
Ronnie Escalante— One-piece Colorblock Mesh Swimsuit, One-piece Mesh Inset Swimsuit ($99.00, $89.00): Sexy meets sporty in this athletic-inspired one-piece swimsuit. V-neckline with a front mesh inset and hook-and-eye closures. Contrast colorblock panels at side with high-cut leg and panel lining. Color: Turquoise and Black, Black @escalanteronnie Luciana Scarabello— Cropped Collarless Metallic Jacket ($99.00): A classic collarless jacket with a modern cropped fit and luxe metallic brocade fabric. Braided chain trim at edges with front hook-and-eye closure. Three-quarter-length sleeves with princess seams for shape. Cropped fit hits at high waist. Fully lined. Colors: Jacquard, Blue/gold, Multi-stripe @L_scarabello
H&M buyer Nicole Christie purchased a women's wear piece from self-taught menswear designer Nzimiro Oputa as well as lingerie from Texan Ross Bennett.
[http://fashionstar.hm.com] @hmusa
Nzimiro Oputa—Dress ($29.95): Short chiffon dress with folded pleats on shoulders and draping at neckline. One long and one short sleeve. Slip dress with narrow should straps and hidden side zip. Colors: Black and Purple.
@nzimirooputa
Ross Bennett—Lingerie Set ($14.95) : Lingerie set with triangular bra and briefs in satin with lace detail. Bra features slightly padded cups and adjustable shoulder straps. Briefs have a high elasticized wait and lines gusset. Colors: White and Pink @therbcollection
Saks Fifth Avenue buyer Terron E. Shaffer purchased a dress from former fourth grade teacher Kara Laricks, making it Kara's fourth purchase from Saks in the competition. [saksfifthavenue.com]
Kara Laricks—Chiffon Hi-lo Hem Dress ($375.00): Tiers of airy striped chiffon float throughout this layered maxi silhouette. Adjustable spaghetti straps with v-neckline and tiered from bust to hem. Center back zipper. Color: Black
@KaraLaricks
While some of the designers excelled outside of their creative comfort zones, others found it difficult to execute the challenge. Beachwear designer Nikki Poulos struggled with how to properly construct a men's garment. Meanwhile, Barbara Bates had a tough time interpreting boho-chic. Orly Shani, Nikki Poulos, Barbara Bates and Sarah Parrott found themselves in the bottom four and up for elimination. The celebrity mentors chose to save Nikki Poulos. In the end, the retailers decided that Barbara Bates was not their "Fashion Star."
Additionally, viewers will have unprecedented, behind-the-scenes access to each designer on NBC.com's contestant blogs: http://www.nbc.com/fashionstar/about/bios/designers/.
"Fashion Star" scoured the country in search of the next big brand in fashion. Fourteen unknown designers were chosen and given the chance to win a multi-million dollar prize to launch their collections in three of America's largest retailers: Macy's, H&M and Saks Fifth Avenue. The series features host and executive producer Elle Macpherson along with celebrity mentors Jessica Simpson, Nicole Richie and John Varvatos.
The "Fashion Star" format was developed by Ben Silverman of Electus (NBC's "The Biggest Loser," "The Office," and "The Tudors"), Rick Ringbakk of Emmy Award-winning 5x5 Media ("Jamie Oliver's Food Revolution"), and E.J. Johnston and James Deutch of EJD Productions.
The show is executive-produced by Macpherson, Silverman of Electus, Jane Lipsitz and Dan Cutforth of The Magical Elves, Rick Ringbakk of 5x5 Media) and E.J. Johnston and James Deutch of EJD Productions. Electus/engine Distribution will retain all international distribution rights.
Did you see the previous episodes?
Fashion Star Season 1 Episode 2
Fashion Star Season 1 Episode 3