This past Tuesday on NBC's "Fashion Star," the remaining designers were challenged with executing one high end and one mass market garment. Five hopeful designers' garments were purchased by three of America's top retailers: Macy's, H&M and Saks Fifth Avenue. Celebrity mentors Jessica Simpson, Nicole Richie and John Varvatos helped guide Barbara Bates, Kara Laricks, Luciana Scarabello, Nikki Poulos and Sarah Parrott in constructing their winning creations, which are available online and in stores now. The series, hosted and executive produced by Elle Macpherson, continues the search for America's "Fashion Star" in next week's episode airing Tuesday, April 10 10-11pm ET when the designers are tasked with creating a live window display (speaking of a live Window Display, you may want to check out the Window Display Group on the Fashion Industry Network).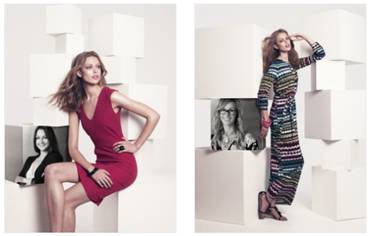 Barbara Bates received her first purchase of the competition from Macy's buyer Caprice Willard.
Barbara Bates—
Sleeveless Printed Halter Shirtdress ($99.00): Updated A-line shirtdress with V-neckline and notched collar. Band halter slips around back of neck with button front and front cargo pockets. Color: Print
Sleeveless Hooded Halter Dress ($79.00): Ponte-knit dress with V-neckline, zip front and contrast trim throughout. Halter strap with hood slips around back of neck, front zip pockets and hits at midthigh. Fully lined. Color: Tan
@batesdesign
For the fourth consecutive week H&M buyer Nicole Christie purchased from self-taught designer Sarah Parrott while also purchasing a high end retro dress from designer Nikki Poulos.
@hmusa
Sarah Parrott—
Dress ($24.95): Knee-length, fitted dress in woven fabric. Waist seam, side pockets, hidden drawstring and slit at back. Color: Red
Dress ($39.95):
Short cotton dress with asymmetrical wrap-front skirt, padded shoulders and open back. Metal clip back, hidden drawstring and snap fastener on skirt.
Color: Off-white
@sarahgparrott
Nikki Poulos—Dress ($34.95): Long jersey dress with a printed pattern, long sleeves and wrap skirt. Low-cut neckline with button, elasticized waistband with ribbon, and buttoned sleeve cuffs. Color: Multi
@nikkipoulos
Saks Fifth Avenue buyer Terron E. Shaffer deemed former fourth grade teacher Kara Laricks a "fashion leader" after purchasing her jacket, while also investing in Luciana Scarabello for her first purchase of the competition.
Kara Laricks—
Long Tailcoat Jacket ($395.00):
The striking cut away tailcoat defines this fitted jacket, cinched in the back by a vibrant satin sash. Satin lapels with three-quarter sleeves and princess seams. Mock flap pockets with detachable back sash. Color: Black
@karalaricks
Luciana Scarabello—Beaded & Pleated Silk Dress ($225.00): Shapely pleats and beaded lace bodice dress made of washed silk. Split V-neckline with button down placket and side zipper. Double front and back pleats. Color: Orchid
@L_scarabello
Despite the innovative winning designs, some of the garments left the retailers and celebrity mentors uninspired. Edmond Newton, Ronnie Escalante and Lisa Vian Hunter found themselves in the bottom three and at risk of going home. Celebrity mentors Jessica Simpson, Nicole Richie and John Varvatos saved San Francisco designer Ronnie Escalante, but not without stressing that next week he will need to take a chance with his designs. In the end, vintage-lover Lisa Vian Hunter's failure to keep her designs current and on trend resulted in her elimination.
Additionally, viewers will have unprecedented, behind-the-scenes access to each designer on NBC.com's contestant blogs.
"Fashion Star" scoured the country in search of the next big brand in fashion. Fourteen unknown designers were chosen and given the chance to win a multi-million dollar prize to launch their collections in three of America's largest retailers: Macy's, H&M and Saks Fifth Avenue. The series features host and executive producer Elle Macpherson along with celebrity mentors Jessica Simpson, Nicole Richie and John Varvatos.
The "Fashion Star" format was developed by Ben Silverman of Electus (NBC's "The Biggest Loser," "The Office," and "The Tudors"), Rick Ringbakk of Emmy Award-winning 5x5 Media ("Jamie Oliver's Food Revolution"), and E.J. Johnston and James Deutch of EJD Productions. The show is executive-produced by Macpherson, Silverman of Electus, Jane Lipsitz and Dan Cutforth of The Magical Elves, Rick Ringbakk of 5x5 Media) and E.J. Johnston and James Deutch of EJD Productions. Electus/engine Distribution will retain all international distribution rights.