Tuesday night on NBC's "Fashion Star," six cutting-edge designers learned the importance of staying on trend after their summer essentials were purchased by three of America's top retailers: Macy's, H&M and Saks Fifth Avenue. Celebrity mentors Jessica Simpson, Nicole Richie and John Varvatos helped guide Kara Laricks, Nikki Poulos, Nzimiro Oputa, Orly Shani, Ross Bennett and Sarah Parrott in designing their winning creations, which are available online and in stores now. The series, hosted and executive produced by Elle Macpherson, continues the search for the next "Fashion Star" in next week's episode airing Tuesday, April 3 10-11pm ET when the remaining designers are challenged to create one high fashion piece and one mass market garment.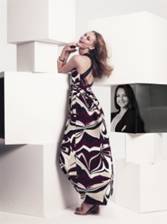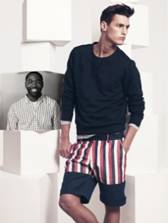 Macy's buyer Caprice Willard purchased garments from Texan Ross Bennett and beachwear designer Nikki Poulos.
Ross Bennett— Cuffed Pleated Satin Shorts ($ .00): Mid-rise stretch satin twill shorts with hook closure and zip fly. Pleated front with cuffed hem. Color:
@TheRBCollection
Nikki Poulos-- Wide-leg Jersey Halter Jumpsuit ($.00): Matte jersey wide leg jumpsuit with scoop neckline. Elastic waistband with self-tie belt and no pockets. Unlined. Color:
@nikkipoulos
For the third week in a row H&M buyer Nicole Christie bought from self-taught designer Sarah Parrott and invested again in menswear designer Nzimiro Oputa.
@hmusa
Sarah Parrott—Eve Dress ($29.95): Long dress in woven fabric with a printed pattern and wrap skirt with front slit. Folded pleats below waistband, ties at side. Mesh racerback and hidden drawstring inside. Color:
@sarahgparrott
Nzimiro Oputa—Nick Shorts ($24.95): Striped shorts in a linen blend with side pockets, back pockets and sewn, cuffed leg hems. Color:
@nzimirooputa
Saks Fifth Avenue buyer Terron E. Shaffer purchased summer trends from designers Kara Laricks and Orly Shani making it the second time each designer has been purchased by Saks Fifth Avenue.
Orly Shani— Scoopneck Jersey Dress ($295.00): Boldly color blocked jersey in a flattering scoopneck silhouette tapered from hip to hem. Wide straps, contrast waistband with bodice darts and center back zipper. Color:
@orlyshani
Kara Laricks—Plaid Ankle Pants ($225.00): A contrast satin sash brightens this tapered silhouette, styled with crisp front pleats and a sophisticated ankle crop. Hook-and-bar closure with slash pockets and belt loops. Color:
@karalaricks
While some designers scored big wins, others failed to impress the retailers and found themselves in jeopardy of leaving the competition. Celebrity mentors, Jessica Simpson, Nicole Richie and John Varvatos saw potential in Atlanta hopeful Edmond Newton and saved him from elimination. However, Lizzie Parker's ode to rock-n-roll didn't move the retailers and Luciana Scarabello's Miami-inspired designs fell flat. In the end, the retailers determined that Lizzie was not their 'Fashion Star.'
Additionally, viewers will have unprecedented, behind-the-scenes access to each designer on NBC.com's contestant blogs: http://www.nbc.com/fashion-star/about/bios/designers/.
"Fashion Star" scours the country in search of the next big brand in fashion. Featuring host and executive producer Elle Macpherson along with celebrity mentors Jessica Simpson, Nicole Richie and John Varvatos, the series will give 14 unknown designers the chance to win a multi-million dollar prize to launch their collections in three of America's largest retailers: Macy's, H&M and Saks Fifth Avenue.
The "Fashion Star" format was developed by Ben Silverman of Electus (NBC's "The Biggest Loser," "The Office," and "The Tudors"), Rick Ringbakk of Emmy Award-winning 5x5 Media ("Jamie Oliver's Food Revolution"), and E.J. Johnston and James Deutch of EJD Productions.
The show is executive-produced by Macpherson, Silverman of Electus, Jane Lipsitz and Dan Cutforth of The Magical Elves, Rick Ringbakk of 5x5 Media) and E.J. Johnston and James Deutch of EJD Productions. Electus/engine Distribution will retain all international distribution rights.
You may also want to have a recap of Episode 1 of Fashion Star and Episode 2.