Artlandia, Inc., maker of award- winning pattern design software, has released Artlandia LivePresets, a new plug-in for simultaneous interactive editing of multiple objects in Adobe Illustrator. By introducing a live, editable variety of formerly "static" Illustrator presets, such as symbols and pattern swatches, LivePresets increases productivity and opens new possibilities for the efficient use of repeating design elements in a wide range of applications, from fashion design and modeling of garments and web pages to interactive editing of non-periodic patterns, borders, 3D objects, and other arrangements.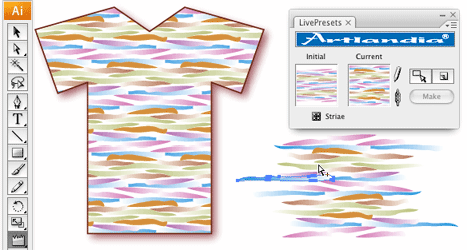 With its live editing of Illustrator symbols, LivePresets caters to essentially all Illustrator users. Symbols encapsulate any object that can be used more than once, in simple compositions that involve only a few identical (or transformed) copies of an object in an artwork or more complex arrangements, including borders, 3D objects, or hundreds randomly scattered copies of the same object. LivePresets allows the designer to interact with a single editable copy of the symbol and apply edits simultaneously to all instances of the symbol in the artwork, increasing productivity and developing previously impossible ideas based on symbol interactions. Live pattern swatches supplied by LivePresets similarly allow for efficient editing and interactive modifications of repeat patterns.
In addition to live symbols and pattern swatches, LivePresets features unlimited snapshots that are automatically added to Illustrator's Symbols and Swatches palettes, a special mode for insertion of new objects, instant linking and unlinking from the artwork, support for editable complex objects in pattern swatches, such as brushes, blends, meshes, or symbols, and provides other features for simple and convenient editing.
LivePresets complements SymmetryWorks and SymmetryShop, Artlandia's popular plug-ins for pattern design in Illustrator and Photoshop, respectively. For SymmetryWorks users, LivePresets further automates the pattern design workflow by allowing interactive application of pattern swatches, developed with SymmetryWorks, to target objects.
Artlandia LivePresets for Macintosh and Windows runs on all major operating systems and is available immediately. The plug-in requires Illustrator 10 or later version (Illustrator CS2 or later recommended). The download-only version costs US$125 or US$344 in a value package with SymmetryWorks 4. The bundle that also includes SymmetryShop 2 costs $564. More information about LivePresets is available on the Artlandia web site, http://www.artlandia.com.