What is the difference between a catsuit & jumpsuit?
A catsuit is a type of jumpsuit. Jumpsuits are often considered as simpler, lighter and more flexible to wear than a catsuit. The catsuit is a tighter fitting garment. A jumpsuit can be casual & comfortable or dressy & elegant. A catsuit is often considered to be a sexy style of clothing due to its tight fit construction.
A catsuit is a one-piece form-fitting garment that covers the torso and the legs, and frequently the arms. They are usually made from stretchable material, such as lycra, chiffon, spandex (after 1959), latex, or velour, but may use less elastic materials, such as leather or PVC. They can also be made of other fabrics such as lace, jersey, etc. Catsuits frequently close by means of a zipper at the front or back. Originally they had been called bodysuits, and the name catsuit has been around since approximately the mid 1950's.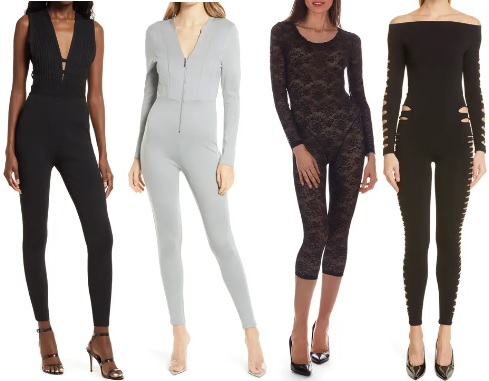 A jumpsuit is a one-piece garment typically with sleeves and legs and typically without integral coverings for feet, hands or head. They can also be designed as sleeveless garments. The original jump suit is the functional one-piece garment used by people that parachute. The jumpsuit is essentially a garment incorporating trousers and a top in one piece, worn as a fashion item, protective garment, or uniform. Although a jumpsuit can be very basic & appropriate for prisoners, it can also be a very fashionable garment for a dressy evening out.
Unless these garments have an opening on the rear such as a "drop seat", it is necessary to remove it entirely for bathroom use.
Athletes in sports such as speed skating, bobsled, winter triathlon, ski-racing, cycling, bodyflight and gymnastics wear garments similar to catsuits, called unitards, which are specifically geared to the needs of the sport involved.
You may find the following to be of interest as well simply for reference.
A romper suit, usually shortened to romper, is a one-piece or two-piece combination of shorts and a shirt. It is also known as a playsuit. Its generally short sleeves and pant-legs contrast with the long ones of the adult jumpsuit.
A boilersuit (or boiler suit), also known as coveralls, is a loose fitting garment covering the whole body except for the head, hands and feet.

Now you know the difference between a jumpsuit & a cat-suit. Congratulations.