Why would a cat wear a suit?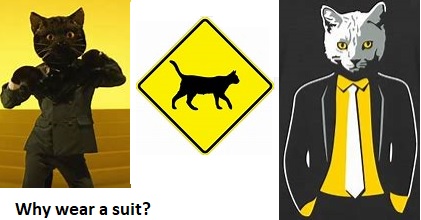 What is a catsuit?
A catsuit is a one-piece form-fitting garment that covers the torso and the legs, and frequently the arms. They are usually made from stretchable material, such as lycra, spandex, latex, velour or chiffon. They can also be produced with less elastic materials, such as leather or PVC. Catsuits frequently close using a zipper at the front or back, or are pulled on over the neck opening.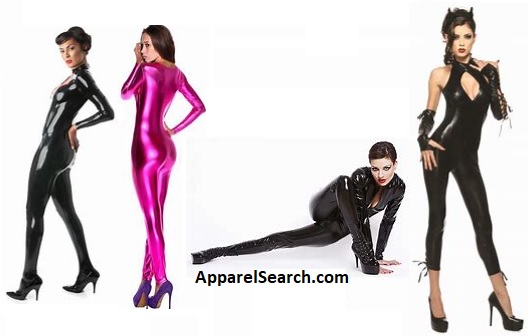 This garment is a type of woman's jumpsuit. It is typically close-fitting and covering the body from the neck to the feet.
A jumpsuit is a garment incorporating trousers and a sleeved top in one piece, worn as a fashion item, protective garment, or uniform.
If you search online you can find tons of sexy catsuits, Full Bodysuits, Leather Jumpsuits for Women. Custom made in hundreds of styles like Vinyl, Lycra, Leather, Spandex, Vinyl, Nylon, Fitted, and unique fashion styles.
Apparel Search is a leading guide to fashion, style, clothing, glam and all things relevant to apparel. We hope that you find this Women's Catsuit page to be helpful.
What ever you are wearing, is in fashion.
If you want to be even more stylish, you should wear your favorite catsuit.
You may find the following sections of our site to be of interest as well.

Thank you for using the Apparel Search website.