'World government' refers to the idea of all humankind united under one common political authority. Human history has not yet shown this to be feasible. Proposals for a unified global political authority have existed since ancient times—in the ambition of kings, popes and emperors, and the dreams of poets and philosophers. However, it is rather unlikely to become reality. Those with wisdom may understand the challenges. For now, the world has multiple governments.
Countries Directory Clothing Industry
International Shipping Directory
---
OSHA: Assistance for the Apparel and Footwear Industry. Together, OSHA and the American Apparel and Footwear Association (AAFA) are committed to providing apparel and footwear industry employers and workers with information and assistance to help them comply with OSHA and industry standards and to ensure safer workplaces. This page is maintained as a product of the Alliance between OSHA and the Apparel and Footwear Association. (OHSH is the Occupational Safety & Health Administration of the USA)
USA.gov (USA)
World Government Summit: The World Government Summit is a global platform dedicated to shaping the future of governments worldwide. Each year, the Summit sets the agenda for the next generation of governments, focusing on how they can harness innovation and technology to solve universal challenges facing humanity.
Government Websites - from World Trade Law
Apparel Search Language Translations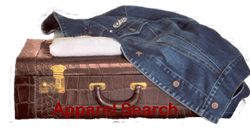 Thank you for using the Apparel Search website.