Submission to the Fashion Trend Forecast 2011 Essay Contest by Antonia Jade Amico dated 2/14/11.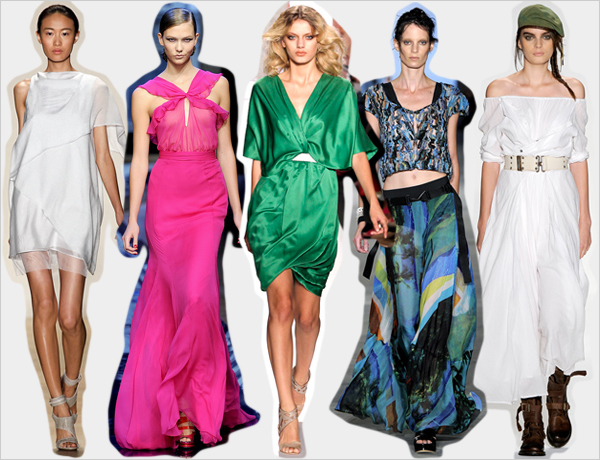 The economic climate has always determined the forecast for designers. Designers have turned to the economy's status for inspiration. When the economy was doing poorly Oliver Twist seemed to be every model's hero. Louis Vuitton look at graffitied walls for inspiration. The Social Cues for 2011 are saying that in order to seriously resurrect from the economy- one must save their money and Pride themselves on their small closet that has all the essentials.
Pride - Don't believe in your old wardrobe. Throw out your 80's prom dresses and that sequin tank you have yet to wear. 2000eleven is not about vanity or the amount of clothes you have- the minimalistic approach is supposed to be more carefree and less stressful. White T-shirt and jeans with no makeup on the weekends will keep your closet bare and ready for the hunter green suede boots you have always wanted.
Envy- You want your neighbor's new Christian Loubitan patent black heels. Relax- Focus on yourself and the fact that you have a pair of shoes that are not only classic and comfortable but also can be used daily or on dates!
Gluttony and Anger and wrath are not the way for 2000eleven. Smile for the paparazzi, frown and wearing goth black will not be in.. Keep the colors vibrant,light and earthy, I'll explain this later. Maintain your bling and stick with timely pieces such as a pearl necklace. But sometimes, no accessories or just a set of pearl earrings does the trick. Gluttony- to the Consumers of America. Stop consuming and focus on simplicity. You'll feel healthier - will fit into your clothes- will not suffer from buyer's remorse for over consumption of products!! Simple means only consuming the bare essentials!
Lust-We all crave satisfying the body. Milk does the body good.. But let's not purchase skanky plunging dresses and stick with a classic boatneck dress. Stick with the classic more conservative peice and make them fun!
Greed I'll say it once more.. Desiring more material is not the look you want.
Sloth If you want to have clothes look superb on you, physically go to the store and try them on. If it's something you truly feel should be in your closet- make sure to have it tailored for your body.
We are all guilty of sometimes allowing our wardrobe to get.. stale. When I say conservative I certainly do not mean stale. For Spring 2011 it's time to turn up the volume and get daring with color. Think of a scenic photo for this spring where the hues featured are the earthy tones of the pink sand on a beach with hints of yellow and orange coming from the sun and a sky streaked blue and white as far as the eye can see, and with this image you have the Spring 2011 color scheme. The earthy crunchy tones are not back to the oliver twist feeling of browns, instead think of earth tones being sand spiced up with burnt orange rocks. Most of the other colors this season were bright- the earth tones are added in to give your outfits a classic look. Audrey was even caught wearing orange with a tan purse in the movie Paris When It Sizzles. The vibrant scheme of this years tones will have you sizzling but certainly not in a place of sin but rather through a celebrating the longevity of life and its rich, bright life. When the cool breeze comes through think of being head to toe in clean crisp white linens like models of Ralph Lauren and Calvin Klein Collection were wearing. Then breathe in that cool air and look up at the sky and you have your next color, classic blue! Your wardrobe should consist of blues that are rich like velveteen navy or light like the happy sky on a sunny day. Take that blue and pair it up with the sun setting and honeysuckle pink coming through the sky. Badgley Mischka, Valentino, DKNY all featured Honeysuckle Pink at their spring fashion show. It's the color that allows you to show off your femininity while still remaining classic.
Remember less is more and your smile is always your best accessory! If your clothing pieces are timeless you can add the trendy accessories and colors but stick with having a wardobe that will last you until the next forecast I make in 2012.
By Antonia Jade Amico
Learn more about Antonia Jade Amico.
Return to the Fashion Trend Forecast 2011 : Fashion Essay Contest at the Fashion Industry Network