Kids enjoy playing in the dirt and playing with tractor toys. They also enjoy seeing their parents working on real John Deere tractors and equipment. Since our founding in 1837, John Deere has delivered products and services to support those linked to the land. You can purchase clothing for your children's to support the John Deere lifestyle.
Learn more about John Deere kids clothing.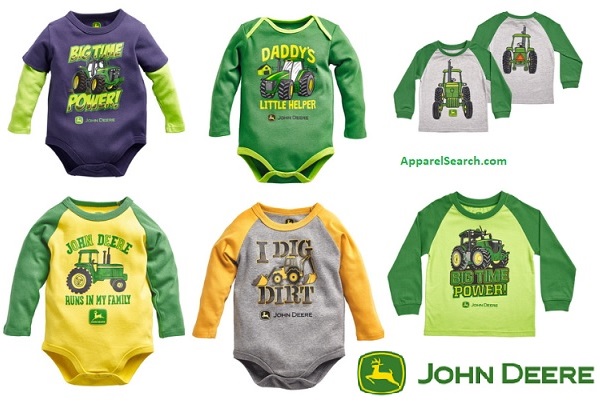 For those who cultivate and harvest the land. For those who transform and enrich the land. For those who build upon the land. John Deere is committed to your success. Because of their past, their passion, and their purpose for helping farmers and industrial companies become more profitable and productive, John Deere is uniquely positioned to be the equipment supplier of choice.
If you have changed your mind and do not wish to research the brand John Deere, you can use the search engine on this page to find another clothing label that may be of more interest.
Use our directory to find additional kids fashion brands to research:
You may also find interest in visiting our Fashion Designer Directory section.
What ever you is wearing is in fashion today for sure.
Apparel Search is a leading guide to fashion, style, clothing, glam and all things relevant to apparel. We hope that you find this John Deere page to be helpful.

John Deere