First offered in 1977, Le Tigre polos sported a leaping tiger in lieu of Lacoste's signature crocodile. Le Tigre is an American brand of apparel designed to rival Lacoste in styling. Le Tigre had become popular during the later 1980s; celebrities from Wilt Chamberlain, LL Cool J, and even Ronald Reagan were seen wearing the tiger. The brand made a comeback in 2003, after being out of production through the 1990s. The company is based in New York City. Le Tigre had been a subsidiary of Kenneth Cole Productions since 2007. The brand was then purchased by Infinity Lifestyle Brands and Hilco Brands in November 2015.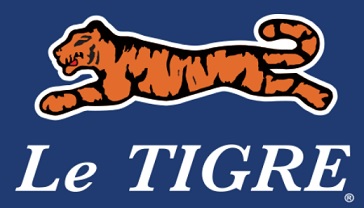 Learn more about the Le Tigre kids fashion brand.
If you have changed your mind and do not wish to research the brand Le Tigre, you can use the search engine on this page to find another clothing label that may be of more interest.
Use our directory to find additional kids fashion brands to research:
You may also find interest in visiting our Fashion Designer Directory section.
Le Tigre is a popular brand of shirts manufactured by Specifique Garments Inc. since the 1980s. Every shirt manufactured starts with high quality fabric and focuses on stylish cuts, detailing with impeccable workmanship.
Apparel Search is a leading guide to fashion, style, clothing, glam and all things relevant to apparel. We hope that you find this Le Tigre page to be helpful.
What ever you are wearing, is in fashion.
Le Tigre