Everything your adventure needs to hit the slopes and explore the trails.
In April 1971, University of California Santa Cruz students Eric Reynolds and Dave Huntley were in Alaska's Juneau Icefield on a school Glaciology project. It was there on a glacier that the idea of a Marmot Club began. To become a Marmot, you had to climb a glaciated peak with another Marmot. One of the rules of the club was that everyone was President. Most of the other rules dealt with a collegiate fascination for bodily functions.
Throughout that summer and over the next two years, Eric and Dave also began making prototypes of down products in their dorm room. Their first products were a down vest, a sweater and a parka and, later, three down sleeping bags. In the spring of 1974, Marmot the company was born.
Learn more about Marmot kids clothing.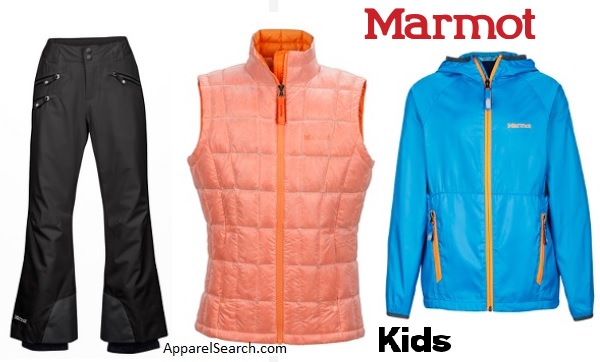 Did you know? The name 'Marmot' refers to a group of highly social, large ground squirrels that live in mountainous areas.
If you have changed your mind and do not wish to research the brand Marmot, you can use the search engine on this page to find another clothing label that may be of more interest.
Use our directory to find additional kids fashion brands to research:
You may also find interest in visiting our Fashion Designer Directory section.
Apparel Search is a leading guide to fashion, style, clothing, glam and all things relevant to apparel. We hope that you find this Marmot page to be helpful.
What ever you are wearing, is in fashion.
Marmot