In this area of the Apparel Search fashion brand directory, you will find children's fashion brands from leading apparel companies and fashion designers. On this particular page, you will find information regarding children's clothing with the UGG brand. You are welcome to utilize this section of our clothing guide to review UGG news, UGG blog posts, UGG photos, and more. Please understand that you may run into a few photos or a tad of information that does not actually pertain to the children's UGG fashion brand. Unfortunately, no search technology is absolutely perfect... We will continue to do our best to bring you as much information about the children's UGG fashion collection as possible.
Since 1978, UGG has employed the finest standards of craftsmanship in the world, utilizing a variety of premium materials that feel like nothing else. From grade-A Twinface Sheepskin to luxuriously soft UGGpure™ wool, all of their exceptionally high-quality materials are carefully selected, refined and handcrafted to deliver a truly unparalleled experience for children around the world. The UGG brand provides boots, slippers, sneakers, sandals, accessories, and more for boys and girls.
In June 2015, UGG had announced a collaboration with Pixar studio. The lifestyle brand launched a capsule collection reflecting Pixar's newest film "Inside Out." They have produced many colorful, Disney-themed UGGs, featuring Mickey Mouse, Minnie Mouse and also Tinker Bell. See an example of Minnie Mouse inspired UGG boots on our fashion & footwear blog.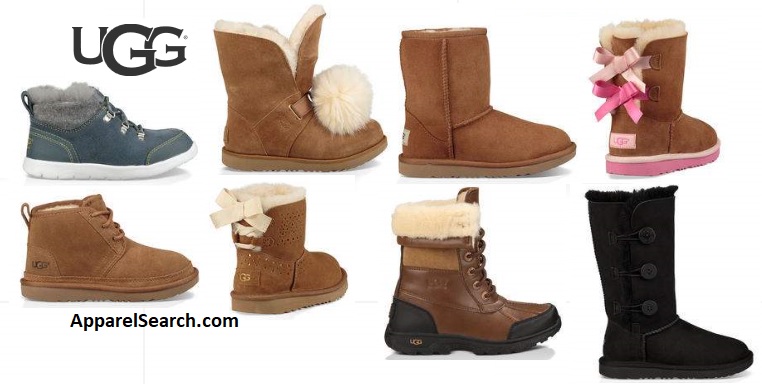 Learn more about the UGG kids shoe brand.
If you have changed your mind and do not wish to research the brand UGG, you can use the search engine on this page to find another clothing label that may be of more interest.
Use our directory to find additional kids fashion brands to research:
You may also find interest in visiting our Fashion Designer Directory section.
Apparel Search is a leading guide to fashion, style, clothing, glam and all things relevant to apparel. We hope that you find this UGG page to be helpful.
What ever you are wearing, is in fashion.
UGG