Giorgio Armani S.P.A. is an Italian fashion house founded by Giorgio Armani which designs, manufactures, distributes and retails haute couture, ready-to-wear, leather goods, shoes, watches, jewelry, accessories, eyewear, cosmetics and home interiors. The brand markets these products under several labels: Giorgio Armani Privé, Giorgio Armani, Armani Collezioni, Emporio Armani, AJ | Armani Jeans, Armani Junior, AX | Armani Exchange. The brand utilizes the association of the Armani name with high-fashion, benefiting from its prestige in the fashion industry.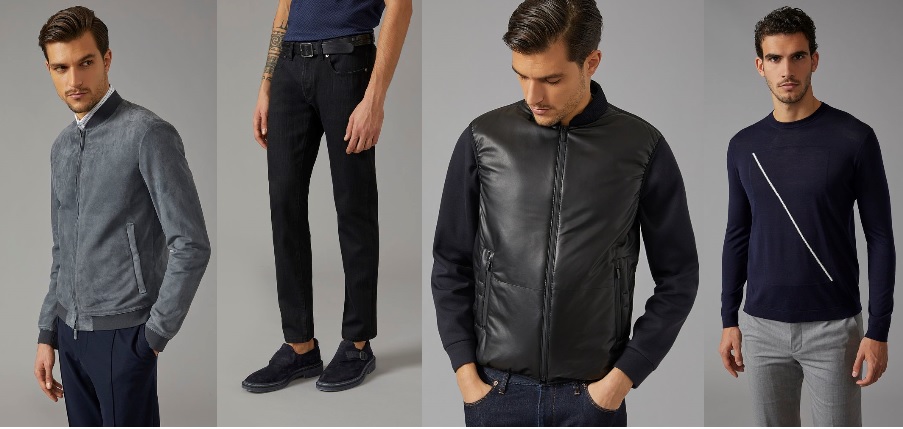 The differences between Armani and Emporio Armani include the logo, target audience and design. Armani is one of the most well-known and largest designer fashion brands in the world. Emporio Armani is a popular brand under the Armani umbrella, recognized for modern designs and high-quality products.
Learn more about the men's Armani fashion brand.

Why does Armani have so many sub-brands?
1. Giorgio Armani is the main line. It's recognized for the best quality, classic designs, and the highest prices. Giorgio Armani's logo is a rounded "G" letter completing a curved "A" letter. But often you will see tags with black on white or white on black "Giorgio Armani" without round logo. On some older vintage pieces you will see "A Milano - Borgonuovo 21" underneath it.
2. Armani Prive: Armani Prive is the haute couture line started in 2005.
3. Armani Collezioni (formerly Giorgio Armani Le Collezioni). Known for tailored suites and shirts. It's aesthetics are close to the main line, but prices are a "little" more down to earth.
4. Emporio Armani. This is the biggest and the most successful brand under Armani. The only diffusion line that is mainly designed by Giorgio Armani. The brand is more modern and fashion forward then Giorgio Armani and Armani Collezioni, and less expensive.
Emporio Armani's logo is the eagle with it's head turned in the right direction.
EA7 is the sporty line of Emporio Armani created in collaboration with Reebok.
5. Armani Jeans. This is the bridge-line collection of denim related clothing. Cheaper then Armani Collezioni. The logo is "AJ".
6. Armani Exchange, A/x. This is the most affordable collection.
If you have changed your mind and do not wish to research the brand Armani, you can use the search engine on this page to find another clothing label that may be of more interest.
Research additional men's fashion brands from the following pages of our directory.
Have you seen our Fashion Designer Directory section?
Apparel Search is a leading guide to fashion, style, clothing, glam and all things relevant to apparel. We hope that you find this Armani page to be helpful.
The clothes that you are wearing today is most certainly in style.

Armani