The company name is G.H. Bass & Co. but the brand name is often abbreviated as Bass.
Discover an American heritage of innovation, quality, & durability from G.H. Bass & Co. Explore men's and women's shoes including loafers, oxfords, boots, & more.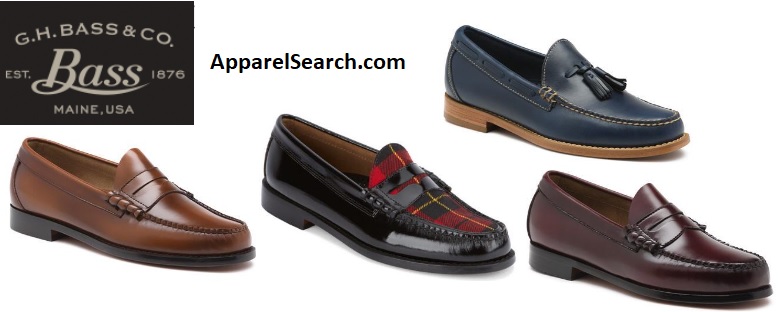 G.H. Bass & Co. is an American footwear brand founded by George Henry Bass in 1876. George Henry Bass (b. Wilton, Maine, 1843) began to work in 1876 in the shoemaking business as junior partner in E.P. Packard & Co. in Wilton. By 1879, he became the sole owner, and changed the company name to G.H. Bass & Co. In 1887.
In 1906, the 1st Bass moccasin made is the "Bass Moccasin Cruiser", designed to be a light and flexible shoe worn by woodsmen.
In 1978, Chesebrough-Pond's Inc (Greenwich, Connecticut) purchased G.H. Bass & Co.; they sold it to PVH Corp. in 1987. Nov. 2013 G.H Bass was purchased from PVH by the G-III Apparel Group.
In addition to footwear, this brand provides clothing.
Learn more about Bass footwear & clothing at their website. https://www.ghbass.com/
If you have changed your mind and do not wish to research the brand Bass, you can use the search engine on this page to find another clothing label that may be of more interest.
Research additional men's fashion brands from the following pages of our directory.
Have you seen our Fashion Designer Directory section?
Apparel Search is a leading guide to fashion, style, clothing, glam and all things relevant to apparel. We hope that you find this Bass page to be helpful.
The clothes that you are wearing today is most certainly in style.

Bass