In this area of the Apparel Search fashion brand directory, you will find men's fashion brands from leading apparel companies and fashion designers. On this particular page, you will find information regarding men's clothing with the Element brand. You are welcome to utilize this section of our clothing guide to review Element news, Element blog posts, Element photos, and more. Please understand that you may run into a few photos or a tad of information that does not actually pertain to the men's Element fashion brand. Unfortunately, no search technology is absolutely perfect. We will continue to do our best to bring you as much information about the men's Element fashion collection as possible.
In 1992 the story begins with a skateboard brand that creates art, skateboards, and clothing to help continue the progress of skateboarding and the skate lifestyle. The company was founded by Johnny Schillereff. The element is based on wind, water, fire, and earth.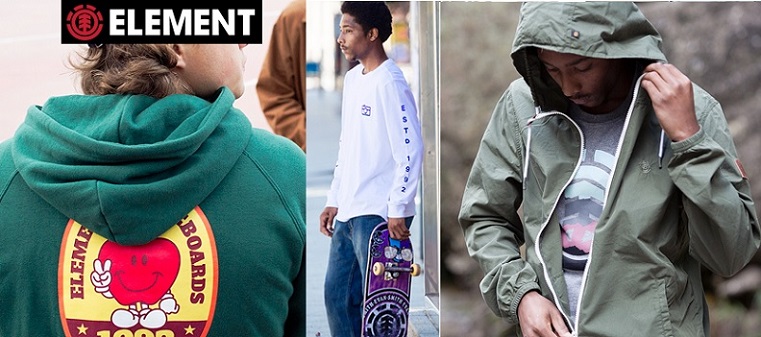 Element is an active, open-minded, lifestyle brand with skateboarding at its roots. Element offers mens and women's apparel, skateboards, footwear and Emerald, an eco-friendlier collection.
Learn more about the men's Element fashion brand for skaters.
Skateboarding is an action sport which involves riding and performing tricks using a skateboard. Skateboarding can also be considered a recreational activity, an art form, a job, or a method of transportation. Skateboarding has been shaped and influenced by many skateboarders throughout the years. Clothing is an important aspect of the skateboarding lifestyle. Shoes, t-shirts, hats, hoodies, and other clothes are common.
You may also find interest in visiting our skate punk fashion page in our terminology section. Skate and punk clothing or lifestyles don't always go hand in hand. However, sometimes over the past several decades they have been rather similar in some regards.
If you have changed your mind and do not wish to research the brand Element, you can use the search engine on this page to find another clothing label that may be of more interest.
Research additional men's fashion brands from the following pages of our directory.
Have you seen our Fashion Designer Directory section.
Apparel Search is a leading guide to fashion, style, clothing, glam and all things relevant to apparel. We hope that you find this Element page to be helpful.
The clothes that you are wearing today is most certainly in style.

Element