Levi Strauss & Co. is a privately held American clothing company known worldwide for its Levi's brand of denim jeans. The company was founded in May 1853 and has been making men happy ever since.

Products include jeans, trousers, shorts, shirts, jackets, sweaters, jackets, T-shirts, underwear, socks, accessories, shoes, dresses, skirts, belts, overalls, jumpsuits and a "big and tall" range. Jeans are categorized by fit as: skinny, slim, straight, bootcut, taper, relaxed, flare and big & tall. Most of the adult denim jeans are identifiable by trademarked three digit style numbers. 501s are available in styles for both men and women, the rest of the 500 series are marketed for men and the 300, 400, 700, and 800 series for women, with the exception of 751s which are classic straight zip fly jeans.
Read Levi blog posts on the Fashion Blog by Apparel Search. For example you may find the Made and Crafted by Levi's and others to be of interest. We also suggest you learn about the Big E tab and little e tab if you have interest in vintage Levi's.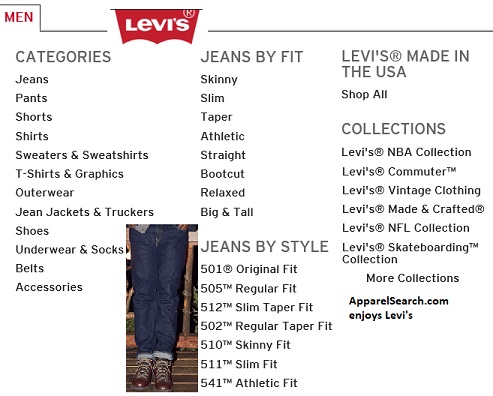 By the 1990s, Levi's faced competition from other brands and cheaper products from overseas, and began accelerating the pace of its US factory-closures and its use of offshore subcontracting agreements.
In 2002, Levi Strauss began a close business collaboration with Walmart, producing a special line of "Signature" jeans and other clothes for exclusive sale in Walmart stores until 2006.
If you have changed your mind and do not wish to research the brand Levis, you can use the search engine on this page to find another clothing label that may be of more interest.
By the way, if you enjoy the Levi's brand as much as we do, don't forget to take some time to learn about the arcuate stitching on the back of the jeans.
Research additional men's fashion brands from the following pages of our directory.
Have you seen our Fashion Designer Directory section?
Which ever style of pant you are wearing is in fashion this season for sure.
Apparel Search is a leading guide to fashion, style, clothing, glam and all things relevant to apparel. We hope that you find this Levis page to be helpful.

Levis