In 1978, Gene moved to enter into the Los Angeles fashion industry. With partner Michael Caruso he started Bongo and ran the brand for 15 years. After leaving Bongo, Gene teamed up with his old business partner Barry Perlman in 1990 to launch Lucky Brand. Gene & Barry created a brand that is known for the attention to detail put into each pair of jeans. This along with the stitching of "Lucky You" on the fly, accomplishes the goal that Gene & Barry set out to do; to create a product of good quality & good humor.
Staying true to the rich heritage and authentic, all-American spirit of denim, Lucky Brand began crafting great-fitting, vintage-inspired jeans in Los Angeles in 1990. They gave them their distinctively Lucky look by literally putting them through the wringer. This including ripping, fraying, sanding, patching and washing them by hand to give them true character and soul. Then, they added authentic hardware, personalized touches and playful details, and an American legend was born.
In addition to trendy jeans, Lucky Brand is know for men's shirts, sweaters, hoodies, jackets, graphic tees, and more.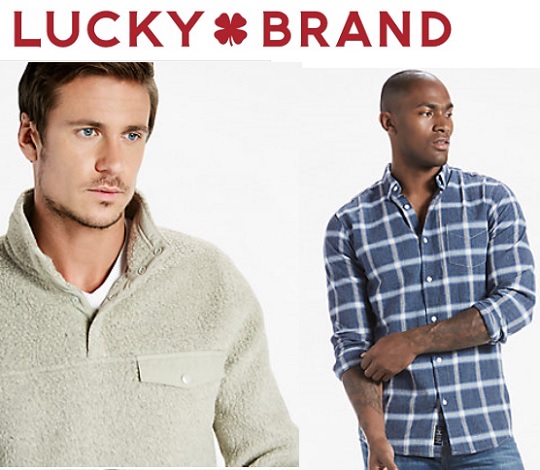 Learn more about men's Lucky Brand clothing.
Lucky Brand Jeans is an American denim company founded in Vernon, California in 1990 by Gene Montesano and Barry Perlman. Lucky also produces sportswear, outerwear, T-shirts and active wear. In December 2013, Leonard Green & Partners acquired Lucky Brand Jeans for $225 million from Fifth & Pacific Companies.
If you have changed your mind and do not wish to research the brand Lucky Brand Jeans, you can use the search engine on this page to find another clothing label that may be of more interest.
You may also want to check out Women's lucky brand information.
Apparel Search is a leading guide to fashion, style, clothing, glam and all things relevant to apparel. We hope that you find this Lucky Brand Jeans page to be helpful.
Research additional men's fashion brands from the following pages of our directory.
Have you seen our Fashion Designer Directory section?
The jeans you are wearing today are totally in style.

Lucky Brand Jeans