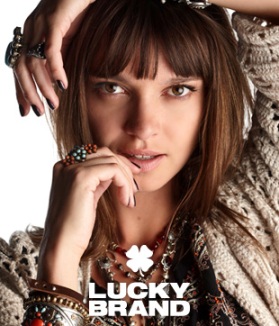 They have always thought that jeans are much more than just blue denim and grommets. With every frayed hem and patched knee, they're a piece of your self-expression.
Lucky Brand crafted their first jeans in Los Angeles in 1990 with this philosophy in mind. And they have been making vintage-inspired, great fitting denim for expressive, independent types ever since. They give their denim its distinctive Lucky Brand look by literally putting it through the wringer. They rip, mend, sand, fray, patch and wash their pieces (often by hand) to give them real character and soul. They add authentic hardware and special details inspired by the rugged work wear denim of our pioneers. And everything that bears the Lucky Brand label has the essence of Southern California sewn right in.
They were born in Southern California and it's a big part of what they make. Lucky Brand is inspired by amazing nature, like the orange groves and mountains of Ojai and the beach towns that dot the Pacific Coast Highway. They can't get enough of the casual lifestyle and amazing weather.
In addition to giving their jeans their distinctive look and vibe, Southern California also inspires their seasonal Lucky Brand fashion collections - jackets, sweaters, dresses, pants and accessories that work with or without your denim.
You'll find Lucky Brand all over America in 177 stores (in 2011) as well as at select department stores. Their famously helpful Lucky Brand associates will guide you toward your perfect fitting jeans and help you pick a few things to go with them. And you can shop the entire collection on their site at https://www.luckybrand.com/
Learn more about Lucky Brand at the Lucky Brand website.