O'Neill For Men: Learn About The O'Neill Fashion Brand For Men presented by Apparel Search
men's Fashion Brands Fashion Brands Popular Fashion Brands Fashion Designers Shopping Retail Fashion Men's Clothing Men's Clothing Stores Men's Clothing Wholesalers Menswear Buyers Men's Fashion News Fashion Industry
In this area of the Apparel Search fashion brand directory, you will find men's fashion brands from leading apparel companies and fashion designers. On this particular page, you will find information regarding men's clothing with the O'Neill brand. You are welcome to utilize this section of our clothing guide to review O'Neill news, O'Neill blog posts, O'Neill photos, and more. Please understand that you may run into a few photos or a tad of information that does not actually pertain to the men's O'Neill fashion brand. Unfortunately, no search technology is absolutely perfect. We will continue to do our best to bring you as much information about the men's O'Neill fashion collection as possible.
Time to go surfing. Be back soon...
O'Neill, The Original California Surf, Snow & Lifestyle Brand.
O'Neill is originally a Californian surf wear and surfboard brand started in 1952 by Jack O'Neill.
Sometime around 1952, Jack opened the first Surf Shop in a garage across the Great Highway. He shaped a few balsa surfboards and sold accessories like paraffin wax and a few vests he started gluing together from neoprene. When the vests started selling, Jack decided to go into the wetsuit business. His friends laughed. They asked him what he planned to do for business after the handful of surfers in the area had bought one. Jack said he'd cross that bridge when he got to it.
The company moved down the coast from San Francisco to Santa Cruz by the end of the decade.
As Jack improved his wetsuits- new styles, features, accessories, etc., surfers' territories expanded. Northern California became a year-round surf zone. Guys were surfing New Hampshire and Rhode Island in January! Explorations and transplants opened up Oregon, Washington, and Canada. Meanwhile, divers, waterskiers, snow-skiers, and then windsurfers were wearing wetsuits.
Jack is credited to have invented the wetsuit, his son Pat the leash on the surfboard. The company logo symbolizes a breaking surf wave. "O'NEILL" and the "Wave logo" are trademarks registered worldwide.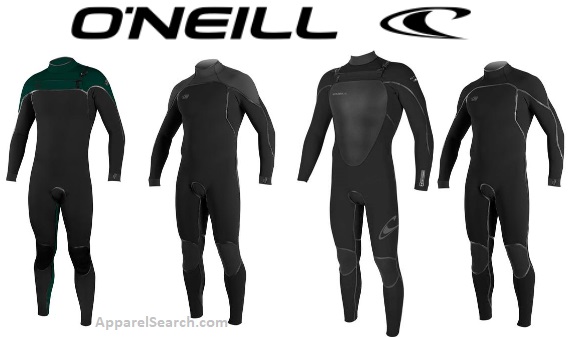 By 1980, Jack O'Neill's surf shop had morphed into a thriving international company, dominating the world's wetsuit market and one of the leaders in beach lifestyle sportswear in the U.S., Japan, and Europe.
Learn more about the O'Neill men's clothing & accessories brand.

If you have changed your mind and do not wish to research the brand O'Neill, you can use the search engine on this page to find another clothing label that may be of more interest.
Research additional men's fashion brands from the following pages of our directory.
Apparel Search is a leading guide to fashion, style, clothing, glam and all things relevant to apparel. We hope that you find this O'Neill page to be helpful.
Have you seen our Fashion Designer Directory section?
The clothes that you are wearing today is most certainly in style.

O'Neill