In 1978, while David Jacobs' sons were in the ski race circuit, he noted that there was only one brand of race sweaters available. He believed he could make a better product and sell it to the close-knit race community. This business, named David L Jacobs, Incorporated, began as a small mail order business in his Boulder, Colorado.
Spyder is an American Colorado-based manufacturer of high-end skiing apparel. The company is one of the world's largest ski specialty brands. David Jacobs, Spyder's founder and chairman was born in Montreal, Canada, and began skiing at age 13. At 21, he won the Quebec Kandahar, and from 1957 through 1961 was a member of the Canadian National Ski Team. In 1957 he captured the title of Canadian Downhill Ski Champion, and was the top-ranked member of the Canadian FIS Team the following season. He was the first full-time head coach and program administrator for the Canadian National Ski Team from 1964 to 1966.
After the successful introduction of race sweaters, Jacobs added ski pants to the catalog offering. One of the earliest creations was a navy blue racing pant with yellow striped pads extending from the knee to the hip. His son Billy mentioned that skiers were calling them "spider" pants, due to their spider leg-like appearance. Jacobs recognized this as an opportunity to have a powerful, lasting name and logo associated with his products, and renamed the company. A passionate sports car fan, he borrowed the spelling with a "y" from the Ferrari Spyder. The early mail order catalogs included race pants, padded sweaters, Vuarnet sunglasses, bent downhill poles and other racing accessories.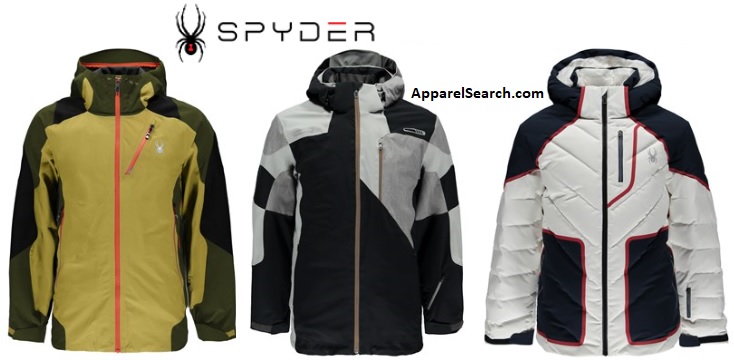 Learn more about the Spyder men's clothing brand.
Find the perfect layer for your activity. Winter clothing have many layers. Choose Spider for your outerlayer, midlayer and innerlayer of clothing.
In 2004, Apax Partners, a global private equity group, acquired Spyder.
The company acquired Cloudveil Mountain Works in 2008. Founded in 1997, Cloudveil manufactures apparel for the outdoor, snowsports, fly fishing and casual apparel markets.
If you have changed your mind and do not wish to research the brand Spyder, you can use the search engine on this page to find another clothing label that may be of more interest.
Research additional men's fashion brands from the following pages of our directory.
Have you seen our Fashion Designer Directory section?
Apparel Search is a leading guide to fashion, style, clothing, glam and all things relevant to apparel. We hope that you find this Spyder page to be helpful.
What ever type of winter sports clothing you are wearing, is in fashion.

Spyder