Lee Alexander McQueen, CBE was a British fashion designer and couturier. He is known for having worked as chief designer at Givenchy from 1996 to 2001 and for founding his own Alexander McQueen label. Alexander McQueen brand was founded by designer Alexander McQueen in 1992. In December 2000, the Gucci Group acquired 51% of his company and appointed him as Creative Director. Alexander McQueen died in 2010, but his brand has lived on successfully (would have been even better with him still at the helm).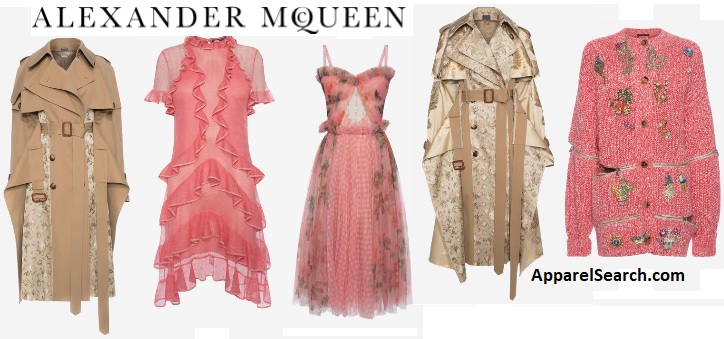 Alexander McQueen staged lavish and unconventional runway shows, such as a recreation of a shipwreck for his Spring 2003 collection, Spring 2005's human chess game, and the Fall 2006 show, Widows of Culloden, which featured a life-sized hologram of supermodel Kate Moss dressed in yards of rippling fabric. In total, McQueen designed 36 collections for his London label, including his MA graduate collection.
Learn more about the women's Alexander McQueen fashion brand.
Alexander McQueen Fashion Blog Posts
On 27 July 2006, the company launched a lower-priced diffusion line McQ. You may want to visit the MCQ website.
If you have changed your mind and do not wish to research the brand Alexander McQueen, you can use the search engine on this page to find another clothing label that may be of more interest.
When you are ready to research additional fashion brands for women you can try the following pages to find our alphabetical list of women's fashion brands.
Have you seen our Fashion Designer Directory section?
Please keep in mind that sometimes the brand of clothing you've always loved won't fit as well as it has in the past. As a matter of fact, the quality could change at your favorite designer's shop, as they adjust their demographics or respond to shifts in consumer spending etc. So remember to keep your favorite and most familiar brands on hand. You should always keep your eyes open for the next up-and-coming designer labels, as well. Today's unknown designer brand could become tomorrow's favorite!
What ever you are wearing, is in fashion.
Apparel Search is a leading guide to fashion, style, clothing, glam and all things relevant to apparel. We hope that you find this Alexander McQueen page to be helpful.

Alexander McQueen