Discover the universe of Antik Batik and the ready-to-wear and accessories collections for woman on the eshop Antik Batik. Bohemian elegance and authenticity. After traveling the world for inspiration and settling in fashion capital Paris, Italian-born designer Gabriella Cortese started Antik Batik in 1992. With an eclectic mix of European and Indonesian influences, the label's fabulously romantic designs combine colorful prints with eye-catching embellishments.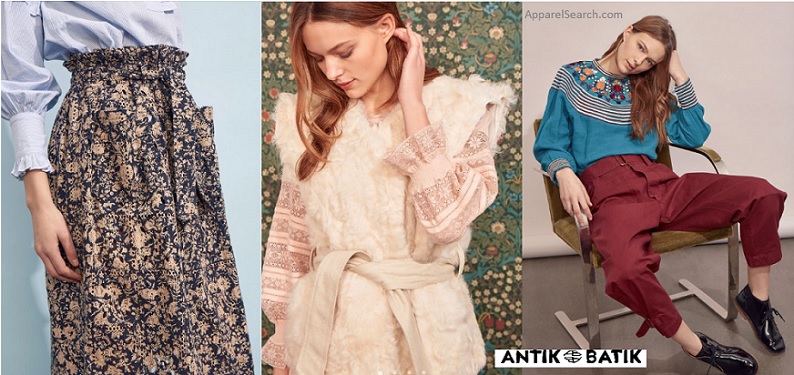 Learn more about the women's Antik Batic fashion brand.
Antik Batik has produced elaborate ready-to-wear pieces requiring hours upon hours of expertise and artistry. It is her fascination for the finesse and dexterity of the artisans she meets through her constant travels that drives Gabriella Cortese to create and imagine garments made to be crafted, in diametric opposition to industrialised, mass-produced fast fashion, instead distilling millennia of traditional dyeing and printing processes – such as bandhani and batik – embroidery techniques, and weaving know-how. In the truest of tradition and with patience, tender care and devotion, the women and men with whom the designer has built relationships of trust and respect give life to the unique pieces that corral to form Antik Batik's distinctive collections.
If you have changed your mind and do not wish to research the brand Antik Batik, you can use the search engine on this page to find another clothing label that may be of more interest.
When you are ready to research additional fashion brands for women you can try the following pages to find our alphabetical list of women's fashion brands.
Have you seen our Fashion Designer Directory section?
What ever you are wearing, is in fashion.
ANTIK BATIK is a French designer brand founded in 1992 by Gabriella Cortese. Since the very beginning, she has been cultivating her own very authentic style of "boho chic." Natural materials meet an amalgamation of artistic influences, while embroidery and patterns combine to embody the dandyesque elegance of a globe-trotting woman.

Antik Batik