They are committed to designing innovative and functional products for consumers who participate in a wide range of outdoor activities, enabling them to pursue their passions longer and in greater comfort by keeping them warm or cool, dry and protected. Quality and durability are important aspects of this, and they have vigorous material and product quality testing standards in place to ensure that their products are made to last. This helps to extend the life of the garments.
Being an industry leader in outdoor apparel and products takes passion, and an understanding of people who love the outdoors. Born and raised in Portland, Oregon, Columbia Sportswear Company has been making gear so that Pacific Northwesterners can enjoy the outdoors for more than 70 years. At the helm for over 40 years has been our Chairman, Gert Boyle. Her Tough Mother persona has grown Columbia into the global sportswear company that it is today—still based in Portland, still making no-nonsense apparel and footwear to keep you WARM, DRY, COOL and PROTECTED no matter what. Our unique Pacific Northwest heritage and Boyle family irreverence is what sets us apart from the competition.
The women's Columbia fashion brand has fab styles for ski & snow, yoga, outdoor casual, trail running, fishing, hiking, and more.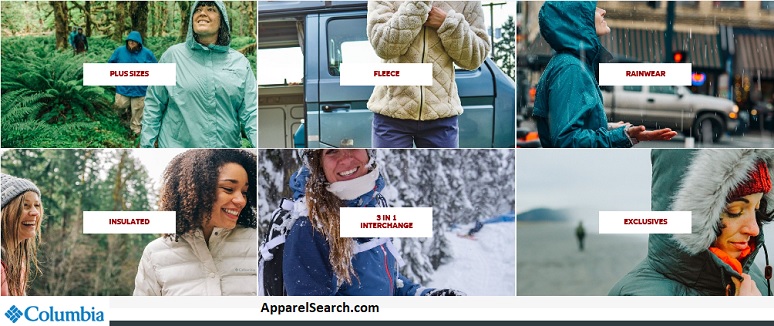 If you have changed your mind and do not wish to research the brand Columbia, you can use the search engine on this page to find another clothing label that may be of more interest.
When you are ready to research additional fashion brands for women you can try the following pages to find our alphabetical list of women's fashion brands.
The clothing that you are wearing today is most definitely in style. You are clearly a trendsetter.
Have you seen our Fashion Designer Directory section?
Apparel Search is a leading guide to fashion, style, clothing, glam and all things relevant to apparel. We hope that you find this Columbia page to be helpful.

Columbia