Diesel S.p.A. is an Italian retail clothing company, located in Breganze, Italy. It sells denim, and other clothing, footwear, and accessories. The clothing line has two different brands: Diesel and Diesel Black Gold. The company is known for its surreal advertising campaigns.
Diesel is an innovative international lifestyle company, producing a wide-ranging collection of jeans, clothing and accessories. Since its creation in 1978, Diesel has experienced extraordinary growth and has evolved from being a leading pioneer in denim into the world of premium casual wear, becoming a true alternative to the established luxury market. Diesel's philosophy has remained the same as the day of its creation: Renzo Rosso had envisaged a brand that would stand for passion, individuality and self-expression. Diesel thrives on change: it produces no less than 3,000 new products every season and each one derives from a process of enormous creative freedom, ensuring constant innovation.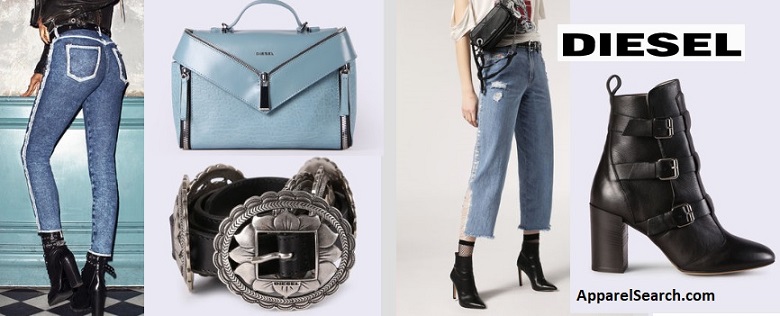 Learn more about the women's Diesel fashion brand.
If you have changed your mind and do not wish to research the brand Diesel, you can use the search engine on this page to find another clothing label that may be of more interest.
When you are ready to research additional fashion brands for women you can try the following pages to find our alphabetical list of women's fashion brands.
Have you seen our Fashion Designer Directory section?
Apparel Search is a leading guide to fashion, style, clothing, glam and all things relevant to apparel. We hope that you find this Diesel page to be helpful.
What ever you are wearing, is in fashion.

Diesel