Eileen Fisher is an American clothing designer and founder of the women's clothing brand Eileen Fisher, Inc. Fisher's designs are characterized by simplicity, and her company is known for using non-traditional models in its print advertisements, including its own employees. Their mission embraces simplicity, sustainability and great design.
Simple. Sensual. Beautiful. Timeless. Functional. Great design is at the heart of EILEEN FISHER. It is an idea brought to life through clean lines, simple shapes and sensual fabrics. It strives to balance the timeless with the modern, function with beauty. It is an organic system, always evolving, changing, building upon what's come before. Great design is clothing in context, made to fit both our bodies and our lives. It is a dialogue between seasonal perspectives and enduring ideals.
EILEEN FISHER is more than a brand. They are a culture and an ethos born of passionate individuals who work as they live, using good design to inspire creativity, cultivate connection and instill confidence. By reflecting these values in their craft, clothing, workspaces and interactions, they celebrate the vital dynamic between one and many.
According to a pledge they made on their website in 2018, they pledge to use the most sustainable fibers they can lay their hands on. They are on the path to making all their cotton and linen to be organic. And their core merinos will get an ethical makeover: They will use wool from sheep that are humanely raised—on land that is sustainably managed. They are determined to wean themselves off rayon because Tencel® has much better chemistry. And they are taking a new look at polyester. If it's recycled, they are in.
At EILEEN FISHER, this conversation around great design begins with their shared Design Values. These five values form the foundation of their aesthetic; they are what they aspire to achieve within every product they craft. Their Design Values are their creative anchors, grounding them in the essentials of EILEEN FISHER design. They provide them with a shared language from which new ideas and fresh interpretations can emerge each season. They are where the company started and where they will always start again.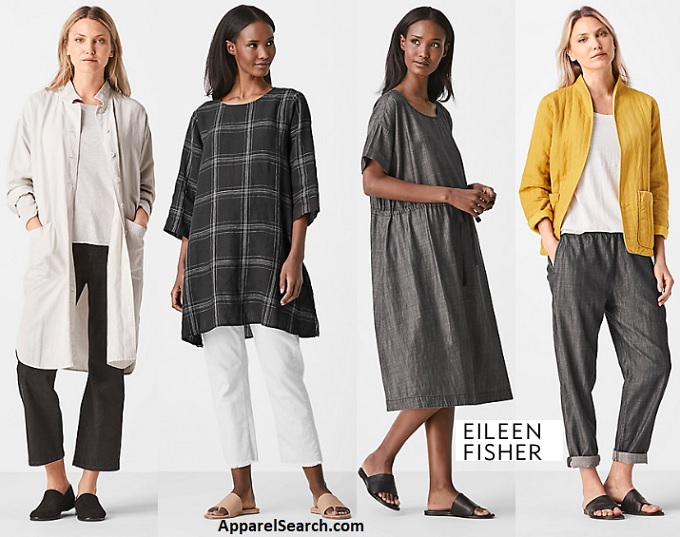 Learn more about the women's Eileen Fisher fashion brand.
Shop for clothing, petites, plus sizes, shoes, accessories, and more.
If you have changed your mind and do not wish to research the brand Eileen Fisher, you can use the search engine on this page to find another clothing label that may be of more interest.
When you are ready to research additional fashion brands for women you can try the following pages to find our alphabetical list of women's fashion brands.
Have you seen our Fashion Designer Directory section.
Apparel Search is a leading guide to fashion, style, clothing, glam and all things relevant to apparel. We hope that you find this Eileen Fisher page to be helpful.
What ever you are wearing is in style.

Eileen Fisher